This book may be unsuitable for people under 17 years of age due to its use of sexual content, language, and/or violence.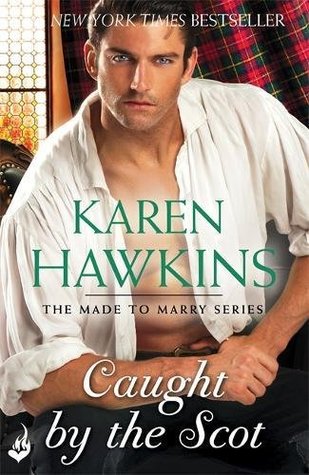 Caught by the Scot (Made to Marry, #1)
by
Karen Hawkins
Pages:
384
Published on
September 26th 2017
by
Headline Eternal
Genres:
Adult
,
Historical Fiction
,
Romance
Format:
eARC
Source:
Netgalley
Amazon
|
B&N
|
BookDepository
|
Goodreads
Caught by the Scot is a fabulously witty and irresistibly sexy Scottish historical romance from New York Times bestseller Karen Hawkins. Fans of Julia Quinn, Monica McCarty and Julie Garwood will be won over by the spellbinding Made to Marry series.

When the dark Duke of Hamilton loses his beloved wife, he heeds her dying wish that he make certain her three brothers marry well for she fears they are all headed to ruin. Heartsick, the Duke approaches the task with a heavy hand, ordering the three brothers to marry within three months or forego their inheritance.

The middle brother, the dashing Conner Douglas, is not about to give up his independence, but he knows marriage doesn't always mean one must change, does it? If anything, being married to a pliable sort of female would give him even more opportunity to seduce the married women of the ton. So he heads straight for the most pliable female he knows - a childhood acquaintance and now mousy spinster, the English born and bred Miss Theodora Cumberbatch-Snowe.

Conner is so certain Theodora will joyously agree to marry him, that he takes his time traveling to her house and has only one month to secure her hand and marry. Yet when he arrives at her parents' house he discovers that Theodora has just run away with a local landowner—a farmer, no less! Unknown to Conner, Theodora has been wildly, passionately in love with him for years. But she's accepted that he sees her only as a friend. Unable to sit forever in her parents' front parlor and wait for what will never happen, Theodora decided to marry someone comfortable in the hopes they might at least become good partners.

Unaware of Theodora's feelings, Conner isn't about to let 'the perfect wife' get away so easily. But as Conner seduces Theodora, his own feelings stir. And after surviving a trip of mishaps and traps, he discovers that he can't image her marrying anyone but him.

Caught by the Scott is the first book in Karen Hawkins Made to Marry series and jumped at the opportunity to read it.  I've read a couple of her books over the years and as you know I love historical romance.
When the Douglas brothers arrive to visit their older sister Anna, Duchess of Hamilton, the expect to be the proud uncles to her firstborn child.  Instead, they find a grieving Duke and an orphan nephew.  Their pain is great as Anna raised them when they lost their parents.  Her dying wish was to see them married and settled and thus, the Duke issues an ultimatum:  Marry within three months or loose their inheritance to a feuding clan.
Conner is not worried.  He's sure his best friend's sister, Miss Theodora Cumberbatch-Snowe, will be more than happy to marry him once he explains what is going on.  After all, she's a spinster and also a close friend.  Conner is so sure that he takes his time going to see Thea, but when he gets there, he discovers the family in an panic, Thea has eloped with Squire Lance Fox.  Conner races after the couple to convince Thea to marry him instead.
Thea has been in love with Conner all of her life, but she's decided that a relationship between them is impossible and thus the elopement to sweet Lance.  She's a diplomat's daughter and has moved around a lot, she's eager to have hear own home and her own family and she cannot wait for rake Conner to notice she's alive.
I loved their relationship.  Thea and Conner have known each other for years, so it's definitely no insta-love.  It' just took Conner two hot seconds to realize that Thea was more than a friend to him (of course, after seeing someone else with her!) They know each other so well, they accept each other's quirks, they care deeply and bring the best in each other.
There is a big host of characters in Caught by the Scott.  Lance is so sweet, dedicated to his mother and sisters, a simple, gorgeous family man.  He's a true gentleman and even though Thea and him realize they are not made for each other, he still tries to please her and take care of her.  Conner's crew follows them along in their adventures and others get added to their trip 🙂
This book is hilarious!  Of course, there are serious topics and a bit of drama, but also a lot of shenanigans, misfortune, irony and snarkyness.  The plot is not complicated I was able to guess a lot of it, but it was still fun.
I think that the pace was slower than I wished.  It seems like it took a while to get going and for something to actually happen. The writing was fun, easy to read and fluid.
Overall?
Caught by the Scott is a great beginning of what I expect to be a very good series.  I hope all Douglas brothers find their match and the get their own lovely happy ending.