LGBT Month is hosted by Cayce at Fighting Dreamer and Laura at Laura Plus Books. It runs throughout April and it's here to celebrate LGBT readers, LGBT authors and of course LGBT books! Here on Istyria book blog there will be other reviews and next week a Bookish Babble centered around this subject. You can still sign up for this throughout the month. Just go to Laura's or Cayce's blog!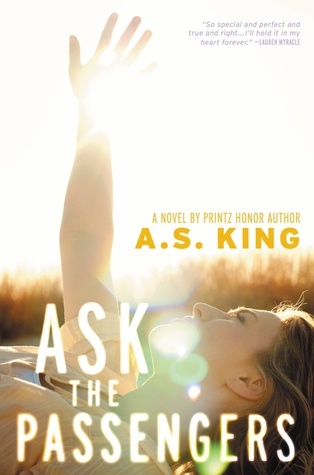 Ask the Passengers
by
A.S. King
Published on
October 23rd 2012
by
Little Brown Books for Young Readers
Genres:
Contemporary
,
LGBT
,
Young Adult
Format:
eBook
Amazon
|
B&N
|
Goodreads
Astrid Jones desperately wants to confide in someone, but her mother's pushiness and her father's lack of interest tell her they're the last people she can trust. Instead, Astrid spends hours lying on the backyard picnic table watching airplanes fly overhead. She doesn't know the passengers inside, but they're the only people who won't judge her when she asks them her most personal questions . . . like what it means that she's falling in love with a girl.

As her secret relationship becomes more intense and her friends demand answers, Astrid has nowhere left to turn. She can't share the truth with anyone except the people at thirty thousand feet, and they don't even know she's there. But little does Astrid know just how much even the tiniest connection will affect these strangers' lives--and her own--for the better.

In this truly original portrayal of a girl struggling to break free of society's definitions, Printz Honor author A.S. King asks readers to question everything--and offers hope to those who will never stop seeking real love.

These kind of book always awake so many feelings inside me. Frustration, sadness and anger mostly. Why? Because most of the time it's about someone that are different and the people around them, those that are supposed to love that someone, don't accept him/her for who he/she really is. And because there are still too many people in the world that want to put everyone in a box. Stick a label too them, that way you can judge them accordingly. Right? No. I say: throw away the boxes and all those labels. I say: keep one label. Human. Person. Normal. Sadly, that's not how this world works, hence the frustration, sadness and anger.
Ask the Passengers is about Astrid Jones. She has nobody to confide in. Her mother doesn't seem to care about her, her dad's stoned most of the time and her sister is trying too hard to be perfect for their mother. So she lies on the picnic table in the backyard and talks to passing airplanes and sends them their love. And she asks them her most personal questions. Like what it means when you're falling in love with a girl. Astrid struggles to accept herself and that's hard when you live in a small town full of closed-minded people.
I really loved this book, I really did. It sends out a great message about being yourself and being free to love whoever you want. I loved Astrid's voice. That's what the writing is. It's Astrid's voice. And I can tell you with certainty that there is an Astrid somewhere in this world. More than one. Which makes the main character in this book feel so real. I wanted to hug her and talk to her and tell her it's okay. I felt so bad for her with all the stuff that's happening in her life. Her mother doesn't seem to care about her. She mostly ignores Astrid and gives all her love to Astrid's sister Ellis. I didn't like their mother, Claire. She was way too pushy and she cares too much about her reputation rather than care about her daughter's feelings. Her dad is just irresponsible. He's stoned a lot of the time and can't keep a steady job. Man up already! And her sister… She's trying to hard to be perfect for their mother's sake. That's not healthy.
The town they live in is what frustrated me the most. But in a good way because you're supposed to be frustrated by it. Most of these people have been stuck in time for decades.  And it annoyed the hell out of me. I'd gone mad if I were Astrid, so that proves she's stronger then me. And when Astrid finally comes out of the closet, she doesn't just come out. She breaks the entire closet and smashes it to pieces. Which was awesome by the way.
Of course there are a few side characters that didn't frustrate me. Like Dee and Justin and yeah, maybe even Kristin. But even most of the frustrating characters, like Astrid's family, grew in this book. And in the end, I can't say I hate them. And I still want to give Astrid a big hug.
Oh and I forgot to mention the little side stories! Sometimes after a scene of Astrid asking a question to an airplane passing by, you get these short side stories of a random person that's affected by the love she sends their way! That was so cute and worked so well with the story.
I would recommend this book to all fans of Young Adult Contemporary. Especially those who look for one that's about LGBT stuff. Or just love. You know. That's what it is after all. This is a fabulously written book about friendship, romance and being yourself and I ended it with a sigh and a huge smile on my face.