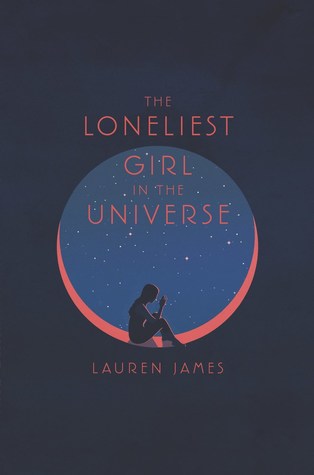 The Loneliest Girl in the Universe
by
Lauren James
Pages:
320
Published on
July 3, 2018
by
HarperTeen
Genres:
Science Fiction
,
Self-Esteem & Self-Reliance
,
Survival Stories
,
Young Adult
Format:
Hardcover
Source:
Library
Goodreads
A surprising and gripping sci-fi thriller with a killer twist

The daughter of two astronauts, Romy Silvers is no stranger to life in space. But she never knew how isolating the universe could be until her parents' tragic deaths left her alone on the Infinity, a spaceship speeding away from Earth.

Romy tries to make the best of her lonely situation, but with only brief messages from her therapist on Earth to keep her company, she can't help but feel like something is missing. It seems like a dream come true when NASA alerts her that another ship, the Eternity, will be joining the Infinity.

Romy begins exchanging messages with J, the captain of the Eternity, and their friendship breathes new life into her world. But as the Eternity gets closer, Romy learns there's more to J's mission than she could have imagined. And suddenly, there are worse things than being alone….

Now nominated as a YALSA Quick Pick!
The Loneliest Girl in the Universe was not what I was expecting–in a good way. Part space opera, part self discovery story, it's a book that hooked me from the start and didn't let go. There is plenty to like, and aside from some technical gripes, it was a good read.
Space truly is a final frontier here. The book's tone has an isolating, claustrophobic feel. Romy is on a spaceship by herself, surrounded by darkness and stars. Growing up alone, she lives with the tragedy of her past and the comforting emails from a therapist on Earth. There's a scene in the film Aliens where one of the characters is crawling through a pipe. The pipe is  miles long with only a few inches for him to shimmy along. It's uncomfortable as you watch him make this trek through with only the glow of his flashlight. The book reminded me a lot of that scene.
The character arc is AMAZING! Readers looking for a character-driven sci fi may enjoy Loneliest Girl. At first, Romy reads like she's younger than she actually is; considering her circumstances, this is understandable. She's had to raise herself alone on a ship. She's prone to anxiety, and I found her experiences with it relatable. As her circumstances change, Romy realizes she has to change as well.
While I really enjoyed the plot, I thought some of the other character motivations were wonky (even when the reveal for these motivations has me saying, "What?!") but then again, I would be curious to see how I would react if put under the situations they were. Also, I was constantly wondering why anyone thought it would be a good idea to keep only a few people awake during the mission. Wouldn't a full crew work out better to man the ship than a small handful of people?
In the long run though, Loneliest Girl is a character-driven novel that entertains and is full of twists.