The Owls Have Come to Take Us Away
by
Ronald L. Smith
Pages:
224
Published on
February 19, 2019
by
Clarion Books
Genres:
Middle Grade
,
Science Fiction
Format:
ARC
Source:
Amazon Vine
Amazon
|
B&N
|
Goodreads
Also by this author:
Hoodoo
Twelve-year-old Simon is obsessed with aliens. The ones who take people and do experiments. When he's too worried about them to sleep, he listens to the owls hoot outside. Owls that have the same eyes as aliens—dark and foreboding.

Then something strange happens on a camping trip, and Simon begins to suspect he's been abducted. But is it real, or just the overactive imagination of a kid who loves fantasy and role-playing games and is the target of bullies and his father's scorn?

Even readers who don't believe in UFOs will relate to the universal kid feeling of not being taken seriously by adults that deepens this deliciously scary tale.
After seeing Bee's Can't Wait Wednesday post, I immediately wanted to read The Owls Have Come to Take Us Away. I liked Ronald L. Smith's Hoodoo, and this one looked intriguing. The writing in Owls flows easily. Simon has a convincing voice–his fears, especially about not being believed, feel genuine. Some of his observations about life had me smiling.
As much as I liked Simon and his narration, the book is all over the place. Not only does the book want to look at Simon's family, especially his distant father and cautious mother, but it also wants to tackle several other major plots,  as well a story that Simon is writing. These story excerpts appear throughout and detracted from my complete immersion in the book; they felt more like padding. By the time the book reaches its conclusion, it's rushed and wraps up quickly, leaving more questions than answers.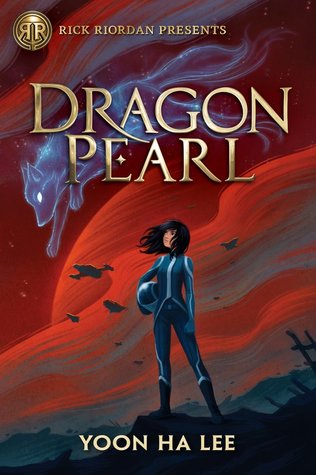 Dragon Pearl
by
Yoon Ha Lee
Pages:
304
Published on
January 15, 2019
by
Rick Riordan Presents
Genres:
Middle Grade
,
Mythology
,
Science Fiction
Source:
Yallwest
Amazon
|
B&N
|
Goodreads
Rick Riordan Presents Yoon Ha Lee's space opera about thirteen-year-old Min, who comes from a long line of fox spirits. But you'd never know it by looking at her.

To keep the family safe, Min's mother insists that none of them use any fox-magic, such as Charm or shape-shifting. They must appear human at all times. Min feels hemmed in by the household rules and resents the endless chores, the cousins who crowd her, and the aunties who judge her. She would like nothing more than to escape Jinju, her neglected, dust-ridden, and impoverished planet. She's counting the days until she can follow her older brother, Jun, into the Space Forces and see more of the Thousand Worlds.

When word arrives that Jun is suspected of leaving his post to go in search of the Dragon Pearl, Min knows that something is wrong. Jun would never desert his battle cruiser, even for a mystical object rumored to have tremendous power. She decides to run away to find him and clear his name.

Min's quest will have her meeting gamblers, pirates, and vengeful ghosts. It will involve deception, lies, and sabotage. She will be forced to use more fox-magic than ever before, and to rely on all of her cleverness and bravery. The outcome may not be what she had hoped, but it has the potential to exceed her wildest dreams.

This sci-fi adventure with the underpinnings of Korean mythology will transport you to a world far beyond your imagination.
I received this book for free from the publisher or author in exchange for an honest review.
This does not affect my opinion of the book or the content of my review.
I really wanted to like Dragon Pearl. It was one of my most anticipated middle grade reads of 2019. This space opera blends Korean mythology with action and intrigue. Our main character is a fox spirit who can sway people with Charm, having them think one thing or even forgetting her existence. I was on board for the mythology, but after a while, it takes a back seat to the science fiction and intrigue. It ends up feeling like a science fiction middle grade novel that just happens to have mythology in it.
Similar to other science fiction adventure stories, Dragon Pearl takes great leaps to different locations. World building is a must for sci-fi and fantasy, and while the world building of Dragon Pearl is serviceable, I wanted more of it. There were several characters who were introduced which had a lot of potential that are used as plot devices. These characters are swept to the side after they've served their purpose. Also, it takes a long time for the actual quest for the Dragon Pearl to actually happen. The resolution is quick, and it's also unpredictable. That was refreshing. The potential is even more so.