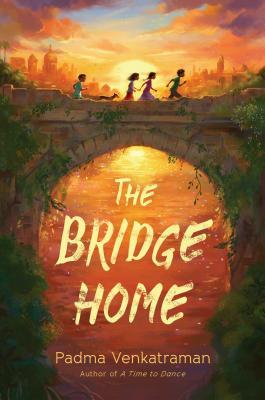 The Bridge Home
by
Padma Venkatraman
Pages:
208
Published on
February 5, 2019
by
Nancy Paulsen Books
Genres:
Family
,
Middle Grade
,
Social Issues
Format:
Hardcover
Source:
Purchased
Amazon
|
B&N
|
Goodreads
When Viji and her sister, Rukku, whose developmental disability makes her overly trusting and vulnerable to the perils of the world, run away to live on their own, the situation could not be more grim. Life on the streets of the teeming city of Chennai is harsh for girls considered outcasts, but the sisters manage to find shelter on an abandoned bridge. There they befriend Muthi and Arul, two boys in a similar predicament, and the four children bond together and form a family of sorts. Viji starts working with the boys scavenging in trash heaps while Rukku makes bead necklaces, and they buy food with what little money they earn. They are often hungry and scared but they have each other--and Kutti, the best dog ever. When the kids are forced from their safe haven on the bridge, they take shelter in a graveyard. But it is now the rainy season and they are plagued by mosquitos, and Rukku and Muthu fall ill. As their symptoms worsen, Viji and Arul must decide whether to risk going for help--when most adults in their lives have proven themselves untrustworthy--or to continue holding on to their fragile, hard-fought freedom.
I admit: I was weary with The Bridge Home after discovering there were second person mentions. Even though the plot grabbed me, second POV isn't my favorite. Something told me to give the book a chance though, so I bought it.
I'm so happy I did because I loved this book.
Inspired by the children she met in India, author Padma Venkatraman has written a moving story of family and survival. Don't let its small size trick you. It's an unflinching look at poverty and homelessness, but it's also about resilience, family, and hope. It's a middle grade read whose themes can be accessed by readers of all ages.
Viji and Rukku left home to escape their father's abuse, and now live on the streets of Chennai. Rukku has a developmental disability, so Viji, the youngest sister, is protective of her. They meet Arul and Muthu, two boys who live on an abandoned bridge. The friendship is instant as the boys take the sisters under the wing. Not only is this a friendship, they become a family. Their lives, while hard, are full of humor and understanding. The four children are able to make each other smile and give each other an uplifting word when they need it. When things take a turn for the worst, they fight for one another. They are one of my favorite found families.
The Bridge Home is one of my best reads of 2019. Highly recommend!