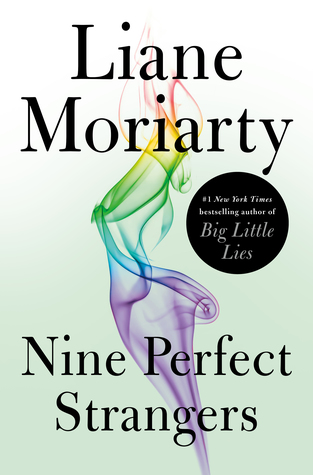 Nine Perfect Strangers
by
Liane Moriarty
Pages:
453
Published on
November 6, 2018
by
Flatiron Books
Genres:
Adult
,
Contemporary
Format:
Hardcover
Source:
Library
Amazon
|
B&N
|
Goodreads
Could ten days at a health resort really change you forever? In Liane Moriarty's latest page-turner, nine perfect strangers are about to find out...

Nine people gather at a remote health resort. Some are here to lose weight, some are here to get a reboot on life, some are here for reasons they can't even admit to themselves. Amidst all of the luxury and pampering, the mindfulness and meditation, they know these ten days might involve some real work. But none of them could imagine just how challenging the next ten days are going to be.

Frances Welty, the formerly best-selling romantic novelist, arrives at Tranquillum House nursing a bad back, a broken heart, and an exquisitely painful paper cut. She's immediately intrigued by her fellow guests. Most of them don't look to be in need of a health resort at all. But the person that intrigues her most is the strange and charismatic owner/director of Tranquillum House. Could this person really have the answers Frances didn't even know she was seeking? Should Frances put aside her doubts and immerse herself in everything Tranquillum House has to offer – or should she run while she still can?

It's not long before every guest at Tranquillum House is asking exactly the same question.

Combining all of the hallmarks that have made her writing a go-to for anyone looking for wickedly smart, page-turning fiction that will make you laugh and gasp, Liane Moriarty's Nine Perfect Strangers once again shows why she is a master of her craft.
This was the first book I've read by Liane Moriarty and it certainly was an unexpected experience. It takes place at a resort in Australia, a country I've always wanted to visit, and its summer is described with crisp detail. I thought it was about a group of guests learning more about themselves on the way to spiritual healing. There is that–but by the middle everything turns into this bizarre, over-the-top incident that puts the guests in for more than they–and myself–thought. I wasn't sure whether to laugh, but there were plenty of times I was thinking, "What is going on?" And it only gets more outlandish.
The plot juggles 10-11 storylines and because there's so much to cover, some of the characters do not get much time to develop. Some characters I genuinely cared about; others I could have done without. The end attempts to wrap everything up but it loses momentum and keeps going. As much as I was thrown by the extravagant turn of events, Nine Perfect Strangers made me very interested in getting to Moriarty's backlist immediately.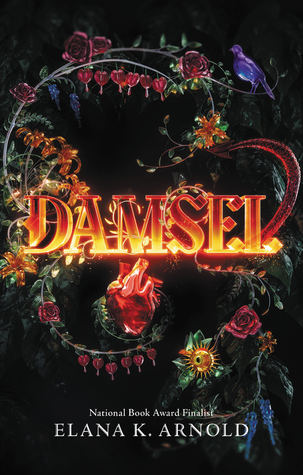 Damsel
by
Elana K. Arnold
Pages:
312
Published on
October 2, 2018
by
Balzer + Bray
Genres:
Fantasy
,
Young Adult
Amazon
|
B&N
|
Goodreads
The rite has existed for as long as anyone can remember: when the prince-who-will-be-king comes of age, he must venture out into the gray lands, slay a fierce dragon, and rescue a damsel to be his bride. This is the way things have always been.

When Ama wakes in the arms of Prince Emory, however, she knows none of this. She has no memory of what came before she was captured by the dragon, or what horrors she has faced in its lair. She knows only this handsome prince, the story he tells of her rescue, and her destiny to sit on the throne beside him. Ama comes with Emory back to the kingdom of Harding, hailed as the new princess, welcomed to the court.

However, as soon as her first night falls, she begins to realize that not all is as it seems, that there is more to the legends of the dragons and the damsels than anyone knows–and that the greatest threats to her life may not be behind her, but here, in front of her.
A lot of people are going to hate Damsel. A lot of people do hate Damsel. It's exquisitely told but it is depressing and upsetting. It makes you angry, and it's supposed to make you angry. This is a fairy tale where the prince expects things to fall into place because he says so, and when he rescues Ama, the damsel, from a dragon, he expects her to be a certain way. It's an exploration of toxic mindframes and power dynamics. Ama always questions the expectations of women in the kingdom (which is mainly meek acceptance). Prince Emory tries to crush her by reminding her he saved her. But it's also about reclaiming your power. That Ama has to experience what she does to reclaim her power is the topic of a lot of discussion.
The book is classified as YA. Before I read Damsel, I read a few Goodreads reviews which mentioned the content. Sammie at The Writerly Way wrote a great post about this. While I was also thrown by the YA category, that doesn't mean it should not be told. Unfortunately, Ama's experience is a truth for many women and girls. It all comes down to the reader's preference. Damsel made me furious, but I am glad I read it.