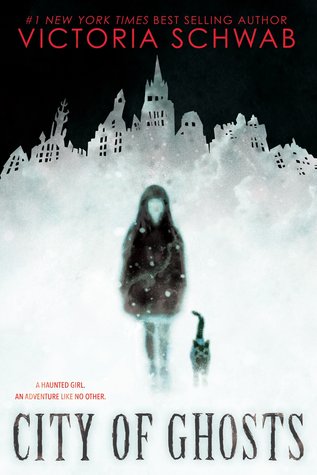 City of Ghosts (Cassidy Blake, #1)
by
Victoria Schwab
Pages:
272
Published on
August 28, 2018
by
Scholastic Press
Genres:
Middle Grade
,
Paranormal
Format:
ARC
Source:
Yallwest
Amazon
|
B&N
|
Goodreads
Also by this author:
The Archived
,
Vicious
,
A Darker Shade of Magic
,
A Gathering of Shadows
,
This Savage Song (Monsters of Verity, #1)
Cassidy Blake's parents are The Inspectres, a (somewhat inept) ghost-hunting team. But Cass herself can REALLY see ghosts. In fact, her best friend, Jacob, just happens to be one.

When The Inspectres head to ultra-haunted Edinburgh, Scotland, for their new TV show, Cass—and Jacob—come along. In Scotland, Cass is surrounded by ghosts, not all of them friendly. Then she meets Lara, a girl who can also see the dead. But Lara tells Cassidy that as an In-betweener, their job is to send ghosts permanently beyond the Veil. Cass isn't sure about her new mission, but she does know the sinister Red Raven haunting the city doesn't belong in her world. Cassidy's powers will draw her into an epic fight that stretches through the worlds of the living and the dead, in order to save herself.
I received this book for free from the publisher or author in exchange for an honest review.
This does not affect my opinion of the book or the content of my review.
City of Ghosts is atmospheric. The majority of it takes place in Scotland and Schwab creates a mysterious land steeped in history and the supernatural. She takes you to catacombs and castles, storefronts and cemeteries. It's a wonderful tour of Scotland. There were times when I was genuinely creeped out by something, so kudos to Schwab for that.
Young narrator Cassidy Blake brings a world of spirits to life; she can see through the Veil, where ghosts dwell. With her best friend Jacob–who just happens to be a ghost himself–they explore this world with the tentative curiosity and fear of children. Their friendship, while not conventional, is awesome. They are there for each other, especially after they argue. I like that theirs is a glimpse of just a simple friendship between a boy and girl.
It does take a while for all the subplots to tie together; they're introduced throughout the book, and it's not until the last third that some serious trouble for Cassidy happens. But I think this is due to the book being the first in a series, and has to create the scene for the reader. It's a fun, spooky read perfect for readers of all ages.
Mirage (Mirage, #1)
by
Somaiya Daud
Pages:
320
Published on
August 28, 2018
by
Flatiron Books
Genres:
Science Fiction
,
Romance
,
Young Adult
Source:
Yallwest
Amazon
|
B&N
|
Goodreads
In a star system dominated by the brutal Vathek empire, eighteen-year-old Amani is a dreamer. She dreams of what life was like before the occupation; she dreams of writing poetry like the old-world poems she adores; she dreams of receiving a sign from Dihya that one day, she, too, will have adventure, and travel beyond her isolated moon.

But when adventure comes for Amani, it is not what she expects: she is kidnapped by the regime and taken in secret to the royal palace, where she discovers that she is nearly identical to the cruel half-Vathek Princess Maram. The princess is so hated by her conquered people that she requires a body double, someone to appear in public as Maram, ready to die in her place.

As Amani is forced into her new role, she can't help but enjoy the palace's beauty—and her time with the princess' fiancé, Idris. But the glitter of the royal court belies a world of violence and fear. If Amani ever wishes to see her family again, she must play the princess to perfection...because one wrong move could lead to her death.
I received this book for free from the publisher or author in exchange for an honest review.
This does not affect my opinion of the book or the content of my review.
Mirage had been on my radar for the past year. Court intrigue, doubles and switched identities, rebellion in a Moroccan-inspired world–this looked great. While I liked many things about the book, there is room for strengthening the plot.
The entire time I was reading Mirage, I could see the ideas growing underneath. It tackles themes of oppression and conquest. It's categorized as sci fi but feels more like science fantasy. We are pulled into a world where an oppressive regime rules, where ideas and would-be uprisings are silenced as quickly as they form. Amani is a young girl kidnapped by the rulers of the planet and made into the body double of the princess. She's trained to become cruel and calculating like Princess Maram. Conspiracies are at hand, rebellion is under way, and Amani is in the middle of it. However, I never really felt the danger. Amani reminds us over and over that her life is on the line, one false move could be the end of her…but I never felt it.
There is instalove between Amani and Maram's fiance, Idris. I was trying to be sympathetic to them–they've been through so much, so yes, under circumstances, latching on to a connection means a lot. I never warmed up to it. But after a while, I wasn't reading this for Amani and Idris. I was reading it for Maram. What a flawed, multifaceted young woman. She's equally ruthless and vulnerable, which makes her compelling. This is where the majority of the plot should have been spent. Maram's guaranteed that I will read the next book.