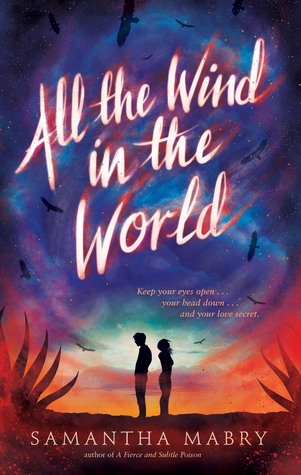 All the Wind in the World
by
Samantha Mabry
Pages:
288
Published on
October 10th 2017
by
Algonquin Young Readers
Genres:
Magical Realism
,
Young Adult
Format:
ARC
Source:
ARC Adoption
Amazon
|
B&N
|
Goodreads
Also by this author:
A Fierce and Subtle Poison
Sarah Jacqueline Crow and James Holt work in the vast maguey fields that span the bone-dry Southwest, a thirsty, infinite land that is both seductive and fearsome. In this rough, transient landscape, Sarah Jac and James have fallen in love. They're tough and brave, and they have big dreams. Soon they will save up enough money to go east. But until then, they keep their heads down, their muscles tensed, and above all, their love secret.

When a horrible accident forces Sarah Jac and James to start over on a new, possibly cursed ranch called the Real Marvelous, the delicate balance they've found begins to give way. And James and Sarah Jac will have to pay a frighteningly high price for their love.
After reading Samantha Mabry's debut novel, A Fierce and Subtle Poison, I knew she was an author to watch. The exquisite writing and the way she explores magical realism is captivating. All the Wind in the World, her sophomore novel, presents a desert landscape whose harsh beauty is brought to life through the tragedy and strength of its characters. While I didn't find the book strong narrative wise, there's still a lot to like about this one.
Set in the American Southwest, the novel's location is described beautifully. From its copper-colored mountains to the sprawling maguey fields, its treacherous yet a feast for the eyes. The desert location is as much a character as the people. It's for the tough-willed and the strong-hearted. 
Alongside the landscape, a portrait of grueling labor and decadent wealth is painted. Sarah Jac and her partner James are part of this portrait, cutting maguey and moving across the country. There is no real plot. It's more a series of vignettes which happen around Sarah Jac. There is her present situation and glimpses of her past which has shaped her now.
Sarah Jac's voice is strong. Her way with words, even when she's describing horrific things, is poetic. As with Poison though, I had a hard time connecting to her. There's a distancing quality in her narration that makes it difficult to care for her. Even though the life she is living is hard, times when I should have sympathized with her were rare. I don't think this is a bad thing; while many may call Sarah Jac an "unlikable character," I can still be invested in their story. What is supposed to be a moving romance between Sarah Jac and James is not allowed to flourish. View Spoiler »They pretend their cousins because their relationship is a cause for envy for anyone they meet and so spend a majority of the book apart. « Hide Spoiler And they're not entirely good people–they do things that will not sit well with many readers. Again, this is not as issue for me, but without that emotional connection, it's hard to care about either of them.
While All the Wind in the World didn't work for me, Mabry's proven that her talent for storytelling is a sure thing.
————————————————————————————————————————————————————
**I received this ARC via Miss Print's ARC adoption in exchange for an honest review. Thank you!