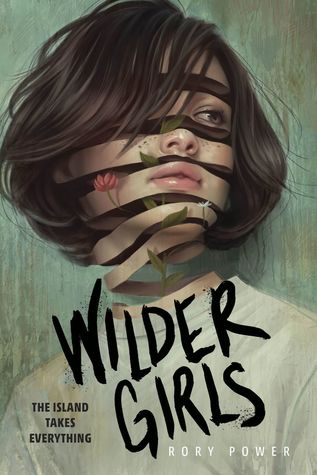 Wilder Girls
by
Rory Power
Pages:
368
Published on
July 9, 2019
by
Delacorte Press
Genres:
Horror
,
LGBT
,
Survival Stories
,
Young Adult
Format:
ARC
Source:
Amazon Vine
Amazon
|
B&N
|
Goodreads
It's been eighteen months since the Raxter School for Girls was put under quarantine. Since the Tox hit and pulled Hetty's life out from under her.

It started slow. First the teachers died one by one. Then it began to infect the students, turning their bodies strange and foreign. Now, cut off from the rest of the world and left to fend for themselves on their island home, the girls don't dare wander outside the school's fence, where the Tox has made the woods wild and dangerous. They wait for the cure they were promised as the Tox seeps into everything.

But when Byatt goes missing, Hetty will do anything to find her, even if it means breaking quarantine and braving the horrors that lie beyond the fence. And when she does, Hetty learns that there's more to their story, to their life at Raxter, than she could have ever thought true.

------Please see author's website for trigger and content warnings.
Wilder Girls is a quiet book, until it's not. Part horror story, part mystery, this is a look at what happens when an island boarding school is affected by the "Tox," an unknown illness or force that makes the Raxter School students and teachers change: one girl has a scaled and taloned hand; another girl has blisters along her face. Even the environment is different. The promise of a cure keeps the girls going, but until then, they resort to wildness. Wildness when it comes to getting choice rations from the people on the mainland, wildness to keep the dangers of the island at bay from the school.
When we're first introduced to Hetty, one of the narrators, the silent menace of the Tox has rooted itself into Raxter life. Hetty's languid yet haunting narration keeps the tension building. I always felt ill at ease while reading. It's the type of terror that had me holding my breath as the girls go about their days. The girls' experiences are similar, but how they cope is what makes the story so compelling.
Byatt's narration intersperses in parts. Not only do we see a girl changing because of the Tox, but a look back at to what got her to Raxter. After only a few passages of Byatt's back story, I came to care about Byatt even more than Hetty, and afterward, found myself wanting to know more about her and the other girls. She is a compelling character.
There is so much the book tries to cover that, I believe, it could have even been fifty to one hundred pages longer. However, what I appreciate is that Wilder Girls takes risks. It got me out of another reading slump with the twists and turns it took. There's a lot of potential for this one, and I hope it finds an audience.