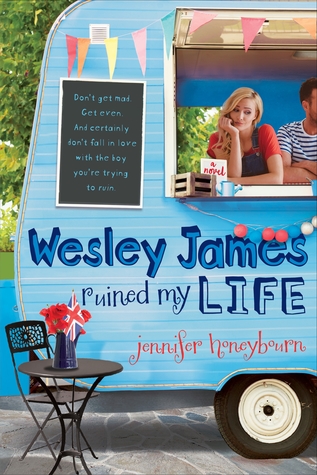 Wesley James Ruined My Life
by
Jennifer Honeybourn
Pages:
256
Published on
July 18th 2017
by
Swoon Reads
Genres:
Contemporary
,
Romance
,
Young Adult
Format:
Paperback
Source:
Library
Goodreads
Sixteen-year-old Quinn Hardwick's having a rough summer. Her beloved grandmother has been put into a home, her dad's gambling addiction has flared back up and now her worst enemy is back in town: Wesley James, former childhood friend—until he ruined her life, that is.

So when Wesley is hired to work with her at Tudor Tymes, a medieval England themed restaurant, the last thing Quinn's going to do is forgive and forget. She's determined to remove him from her life and even the score all at once—by getting him fired.

But getting rid of Wesley isn't as easy as she'd hoped. When Quinn finds herself falling for him, she has to decide what she wants more: to get even, or to just get over it.
I really, really wanted to like Wesley James Ruined My Life. This had the makings of a perfect hate-to-love romance; girl hates boy, boy likes girl, girl and boy work in a Medieval-themed restaurant (which is so darn awesome!) and girl has to deal with her not-so-secret crush on hated boy. But goodness gracious, the whole plot of girl hating boy loses its fun and goes to illogical quickly.
The Good: Tudor Tymes, the Medieval-themed restaurant where Quinn, our main character, works, was great. It was kitschy and grand and charming, stocks to lock people up and all. If the whole book had taken place there, I would have been more forgiving.
I don't like to bash a book because it's never productive, so I'm going to be as level headed as possible with my review.
Unfortunately, all of my gripes stem from the main character. Quinn's mad at Wesley for something that happened when they were eleven. For the first quarter of the book, you're left thinking, "Wow, whatever he did must have been really bad." But when the Big Reason is revealed, it's more far-fetched than believable. Quinn's anger leads to immature and downright cruel decisions: being mean to Wesley and eventually a crusade to get him fired from Tudor Tymes. Because that will solve her problems with him.
Through Quinn's childish antics, she's also trying to raise money for a trip to England while also dealing with her dad's gambling problem and her grandmother's dementia. I was willing to be sympathetic to her family troubles, but Quinn's obsession with destroying Wesley's life really puts a There's grasping at straws and then there's being infuriatingly far-fetched.
Wesley, throughout the whole book, is an okay guy. He's a little bit cocky but he's kind View Spoiler »but he has a girlfriend he fails to mention, so points deducted for that move « Hide Spoiler, which makes Quinn's antics stick out. It's supposed to be cute. It's not.
I've been going back and forth with my rating because there is some redemption at the end, but the overall journey to the end of Wesley James Ruined My Life is paved with bad intentions.