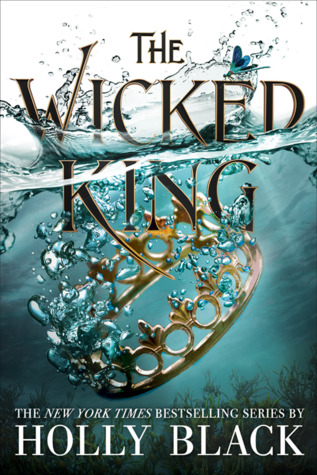 The Wicked King (The Folk of the Air, #2)
by
Holly Black
Pages:
336
Published on
January 8, 2019
by
Little
,
Brown Books for Young Readers
Genres:
Fairies
,
Fantasy
,
Young Adult
Format:
ARC
Source:
Amazon Vine
Amazon
|
B&N
|
Goodreads
Also by this author:
The Coldest Girl in Coldtown
,
The Coldest Girl in Coldtown
,
White Cat
,
The Cruel Prince (The Folk of the Air, #1)
,
The Queen of Nothing (The Folk of the Air, #3)
The enchanting and bloodthirsty sequel to the New York Times bestselling novel The Cruel Prince.

You must be strong enough to strike and strike and strike again without tiring.




The first lesson is to make yourself strong.

After the jaw-dropping revelation that Oak is the heir to Faerie, Jude must keep her younger brother safe. To do so, she has bound the wicked king, Cardan, to her, and made herself the power behind the throne. Navigating the constantly shifting political alliances of Faerie would be difficult enough if Cardan were easy to control. But he does everything in his power to humiliate and undermine her even as his fascination with her remains undiminished.

When it becomes all too clear that someone close to Jude means to betray her, threatening her own life and the lives of everyone she loves, Jude must uncover the traitor and fight her own complicated feelings for Cardan to maintain control as a mortal in a Faerie world.
Dear Holly Black,
I adored The Cruel Prince, so I was on pins and needles for The Wicked King. You deliver dark, twisty fairy tales featuring morally ambiguous characters I can't help but like. You prove there's no second-in-a-series slump here. Also, Jude's emotional turmoil over the Faerie king, whom she hates but is attracted to, is glorious. That Jude is always battling with her emotions while trying to stay in the political game is well done.
Your world building continues to grow. You take us back to the kingdom of Elfhame, but also to realms beyond its shores. What a breathtaking world this is, one where faces appear in a still like and mermaids sing on rocky shores. It is a place of frightening wonder and unique magic.
The tension slowly unfurls, and when it reaches its peak, it feels like the bottom drops out from beneath you.  Jude is caught at the center of power dynamic shifts. You are skilled at drawing the details out, whether it be for political plot or action scenes. I never saw where things were going. The unpredictable nature of the book matches the capricious nature of your unearthly subjects.
Of course, the main draw is the romantic conflict between Jude and Cardan. You scattered their attraction throughout, which hardly takes away from the central plot of who is on the throne, but it is delicious in its frustration. I could feel their distrust of one another… and yet. Hate-that-turns-to-love is one thing, but hate-that-still-is-hate-but-also-love is another. This is a well drawn out possibility of something that kept me on the edge of my seat. Their attraction is, by far, the most infuriatingly wonderful could-be-something more in YA fantasy fiction for me. View Spoiler »The one scene had me internally screaming with glee. « Hide Spoiler
Thank you for these novels. The Folk of the Air series is one I will turn to when I'm in the mood for a creepy fairy tale. The wait for The Queen of Nothing is going to be long, but I know it will be worth it.
My best,
Leah