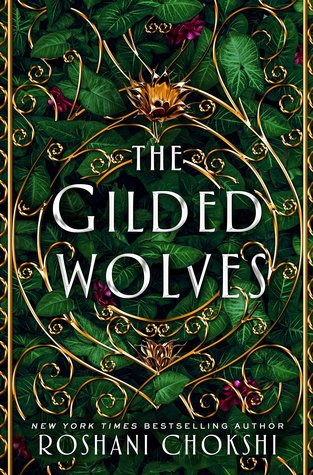 The Gilded Wolves (The Gilded Wolves, #1)
by
Roshani Chokshi
Pages:
388
Published on
January 15, 2019
by
Wednesday Books
Genres:
Action & Adventure
,
Fantasy
,
Friendship
,
Historical Fiction
,
Young Adult
Format:
ARC
,
Hardcover
Source:
Amazon Vine
,
Gifted
Goodreads
Also by this author:
The Star-Touched Queen
,
A Crown of Wishes
,
Aru Shah and the End of Time (Pandava Quartet, #1)

AN INSTANT NEW YORK TIMES BEST SELLER


From New York Times bestselling author Roshani Chokshi comes The Gilded Wolves, a novel set in Paris during a time of extraordinary change—one that is full of mystery, decadence, and dangerous desires...

No one believes in them. But soon no one will forget them.

It's 1889. The city is on the cusp of industry and power, and the Exposition Universelle has breathed new life into the streets and dredged up ancient secrets. Here, no one keeps tabs on dark truths better than treasure-hunter and wealthy hotelier Séverin Montagnet-Alarie. When the elite, ever-powerful Order of Babel coerces him to help them on a mission, Séverin is offered a treasure that he never imagined: his true inheritance.

To hunt down the ancient artifact the Order seeks, Séverin calls upon a band of unlikely experts: An engineer with a debt to pay. A historian banished from his home. A dancer with a sinister past. And a brother in arms if not blood.

Together, they will join Séverin as he explores the dark, glittering heart of Paris. What they find might change the course of history—but only if they can stay alive.
Roshani Chokshi's books are all exquisitely written, offering worlds not often explored. The Gilded Wolves was one of my most-anticipated reads of 2019. It's a romp through 1800s Paris featuring a diverse cast of characters. There's hijinks, schemes, snark, and twists galore. And yet, for all these delicious offerings, I wasn't as captivated as I wanted to be.
The world building is the book's strongest aspect. This is a novel steeped in lavish settings, from a hotel featuring a breathtaking garden, to country estates created to look like the Greek underworld. It also does not shy away from the racism and antisemitism of the times. There are several powerful observations made about how non-white cultures are always described as "exotic", and how a person of color's culture can become another person's skewed fascination.
That being said, the magic system is confusing. You get the gist of the system: fragments from the Biblical Tower of Babel had been scattered across the world, different Houses around the world are tasked with the knowledge of of these fragments. And then…I can't really explain much else. Even then, I'm not sure if my understanding of the Houses and the Order of Babel is what it should be. There's mentions of magical objects (Forged items) and the reader is expected to understand all of them. The characters involved in a heist are given back stories, many of them heartbreaking, and yet I'm also a little confused about certain things for each character. The book throws you in to the deep end of the world and expects you to float. I was treading water the whole time I was reading. This is a book that will benefit from a glossary.
The book ends on a doozy of a cliffhanger, so I will continue the series. I hope by the second installment that more clarification will be given.