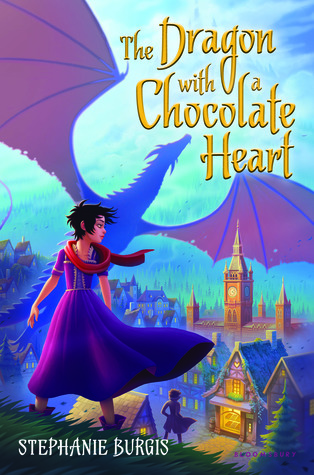 The Dragon with a Chocolate Heart
by
Stephanie Burgis
Pages:
256
Published on
May 30, 2017
by
Bloomsbury USA Childrens
Genres:
Fantasy
,
Friendship
,
Middle Grade
Format:
Hardcover
Source:
Library
Goodreads
Aventurine is a brave young dragon ready to explore the world outside of her family's mountain cave . . . if only they'd let her leave it. Her family thinks she's too young to fly on her own, but she's determined to prove them wrong by capturing the most dangerous prey of all: a human.

But when that human tricks her into drinking enchanted hot chocolate, she's transformed into a puny human without any sharp teeth, fire breath, or claws. Still, she's the fiercest creature in these mountains--and now she's found her true passion: chocolate. All she has to do is get to the human city to find herself an apprenticeship (whatever that is) in a chocolate house (which sounds delicious), and she'll be conquering new territory in no time . . . won't she?

A classic fantasy with terrific girl power, perfect for fans of Shannon Hale and Jessica Day George.

Praise for Kat, Incorrigible

Bank Street Best Books of 2012A Spring 2011 Kids' Indie Next pick A 2012 ALA/ALSC Notable Children's Book A Top 40 Pick for the Pennsylvania School Librarians Association

I never knew I needed a book about dragons and chocolate until I read this novel. This is an engaging middle grade read perfect for book lovers (and chocolate aficionados) of all ages.
Ingredients of Good:
A well thought out main character. Aventurine lives in a mountain until she's old enough to go outside, until she sneaks out and meets a human introduces her to the wonders of chocolate, but who turns her into a *gasp* human girl. Seeing as how humans are inferior to dragons (or so she thinks at first), Aventurine sets out for the city to find a job in a chocolate shop. Things don't go to plan, but she's crafty and will not be intimidated. Her character arc is fantastic.
Girl power! Aventurine is determined to share her newfound passion for chocolate. Not only does she work hard to make her dream come true, but she also fights for the new friends and city she comes to see as a second home. She's a true force to be reckoned with and I admired her courageous spirit.
Of course, the chocolate. This book wafts with chocolate. It tastes like chocolate. There's chocolate tarts, hot cocoa flavored with chili, chocolate heating over stoves. If it's chocolate, it's there, and I want to try all of it. The Chocolate Heart is not only a shop, it's a found family for Aventurine. These supporting characters are all incredible, especially Marina, the shop's owner.
Ingredient for Improvement:
While Aventurine's adventure in being human and crafting chocolate perfection were great, things do stall. There's a subplot concerning the king and princesses of Drachenburg that eventually brings Aventurine into a wild predicament. This predicament, unfortunately, feels long and unnecessary. However, after the news that this will be a trilogy of connected books, this plot makes a lot more sense, but while reading it, it felt out of place.
If you're looking for a creative, fun, dynamic fantasy, consider visiting The Dragon with a Chocolate Heart. Tell them I sent you. 😉