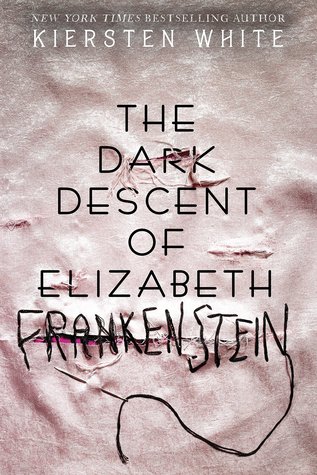 The Dark Descent of Elizabeth Frankenstein
by
Kiersten White
Pages:
304
Published on
September 25, 2018
by
Delacorte Press
Genres:
Gothic Horror
,
Paranormal
,
Young Adult
Format:
ARC
Source:
Amazon Vine
Amazon
|
B&N
|
Goodreads
Also by this author:
In the Shadows
,
Illusions of Fate
Elizabeth Lavenza hasn't had a proper meal in weeks. Her thin arms are covered with bruises from her "caregiver," and she is on the verge of being thrown into the streets . . . until she is brought to the home of Victor Frankenstein, an unsmiling, solitary boy who has everything--except a friend.

Victor is her escape from misery. Elizabeth does everything she can to make herself indispensable--and it works. She is taken in by the Frankenstein family and rewarded with a warm bed, delicious food, and dresses of the finest silk. Soon she and Victor are inseparable.

But her new life comes at a price. As the years pass, Elizabeth's survival depends on managing Victor's dangerous temper and entertaining his every whim, no matter how depraved. Behind her blue eyes and sweet smile lies the calculating heart of a girl determined to stay alive no matter the cost . . . as the world she knows is consumed by darkness.
While I haven't read Mary Shelley's classic novel, I am very familiar with Frankenstein thanks to various film and TV adaptations. Author Kiersten White has taken Shelley's book and reworked it into a compulsively readable, creepy, entertaining tale from Elizabeth Lavenza's, here the childhood companion and future wife of Victor Frankenstein, point of view.
Told in flashbacks and Elizabeth's current search for a missing Victor, we see glimpses of Elizabeth's desperation. This is a girl who will do anything for her survival, even if it means questionable things. This is an unapologetic look at her need for what we should all have: safety and a home. Never does she let up on this. Much like with Not Even Bones, it's so refreshing to see morally gray characters becoming more relevant in the YA genre.
The writing is moody and atmospheric. This is a bleak, oppressive world, one that would sooner have you carted off for sale to settle a debt than help you out. That doesn't mean that all the characters are morally ambiguous. Some, like Elizabeth's friend Justine, prove that some good can be found in this world. There are a few twists and turns when it comes to motivations. It's a wonderful balance of characterization.
While I enjoyed the book, there were a few things that stuck out to me. For the first two thirds, the plot took its time building the world and characters. Crisp writing brings everything together. I had no idea where things were going. It was great! Then at the last third, everything starts happening at breakneck speed, almost like the book was in a hurry to wrap things up.
An introduction to another character happens suddenly, which was a shame because this character turns out to be one of the most interesting people in the book. I wanted to know more about this person and feel like there was so much that could have been said about them that wasn't. Also, a few minor subplots are introduced and are either glossed over or completely left unanswered. Maybe they'll be covered in the finished copy, but for now, I'm left wanting.
This is still a thoroughly engrossing read, and in Kiersten White's hands, The Dark Descent of Elizabeth Frankenstein will no doubt be a gateway to the classic novel it was inspired by.