Strange Grace
by
Tessa Gratton
Pages:
389
Published on
September 18, 2018
by
Margaret K. McElderry Books
Genres:
LGBT
,
Paranormal
,
Young Adult
Format:
ARC
Source:
Gifted
Amazon
|
B&N
|
Goodreads
Also by this author:
Blood Magic (The Blood Journals, #1)
Once, a witch made a pact with a devil. The legend says they loved each other, but can the story be trusted at all? Find out in this lush, atmospheric fantasy novel that entwines love, lies, and sacrifice.

Long ago, a village made a bargain with the devil: to ensure their prosperity, when the Slaughter Moon rises, the village must sacrifice a young man into the depths of the Devil's Forest.

Only this year, the Slaughter Moon has risen early.

Bound by duty, secrets, and the love they share for one another, Mairwen, a spirited witch; Rhun, the expected saint; and Arthur, a restless outcast, will each have a role to play as the devil demands a body to fill the bargain. But the devil these friends find is not the one they expect, and the lies they uncover will turn their town—and their hearts—inside out.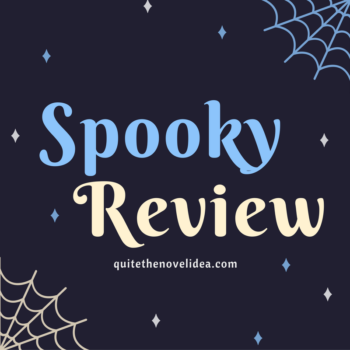 I admire this new wave of unapologetic YA. Strange Grace is the latest addition to the trend, presenting the paranormal while also pushing at and addressing issues of gender. The book is presented in what I think of as a Before and After (I'll go into more detail on this throughout my review)–and while it's a unique tale, there were things I wanted more of.
 The "Before" part feels like a dream. It presents the world of Three Graces. The town is painted in this surreal way. Three Graces is surrounded by forest; it's a place where no one gets ill and injuries heal quickly–all at a price, of course. Every seven years, a boy must go into the forest as an offering for the entity that lives there. It's a price everyone is content to pay until it affects our three main characters. There's Mairwen, a young, fierce witch; Rhun, the town's darling; Arthur, moody and quiet.
Theirs is a love triangle with different relationships. I can't think of another book that has a polyamorous relationship between young characters (if anyone does, please let me know), and Strange Grace presents it with all the giddiness of young love. Of the three characters, I really liked Arthur. Raised as a girl by his mother for most of his young life to avoid being chosen for the sacrifice, as a young man, he constantly teeters on self-hatred and sadness. Is he really a male if he liked being female? Does that make him less? So many times I wanted to hug him, but he would have hated it.
The forest is an actual character. It has a life of its own, makes demands, and has horrors both real and imagined. It's also going to demand a sacrifice sooner than Three Graces expected. This compels Mairwen, Rhun, and Arthur to make a choice.
The "After" part is when the three main characters wake up from the dream. Throughout, we're given snippets of what happens to Mairwen, Rhun, and Arthur. It's feverish and uncomfortable and also very confusing. Shocking truths are revealed, some which were never meant to be known. The ramifications of their choice affect each character in different ways. For one, it's heartbreaking. For another, it's disappointing. For a third, it's triumphant.
As much as I liked the creepy elements and the three leads, the book never completely pulled at me. The "Before" part is a slow build of what's to come. The "After" part happens quickly and in the strange snippets that eventually get pieced together. It also feels like some of the book loses its momentum at the highest point and never comes to a definite conclusion. Is this supposed to also be like a dream? The main thing I noticed was that, while everyone in Three Graces seems to acknowledge and accept LGBTQIA people, everyone treats Arthur like a pariah. Why?
Strange Grace has a lot of potential and some strengths, but there are many unanswered questions and too few answers.