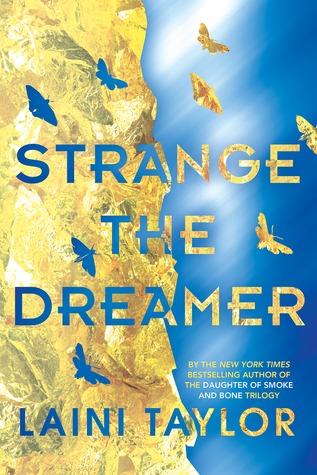 Strange the Dreamer
by
Laini Taylor
Series:
Strange The Dreamer #1
Pages:
544
Published on
March 28th 2017
by
Little
,
Brown Books for Young Readers
Genres:
Young Adult
,
Fantasy
Format:
ARC
Source:
Amazon Vine
Amazon
|
B&N
|
Goodreads
Also by this author:
Daughter of Smoke & Bone
,
Dreams of Gods & Monsters
,
Daughter of Smoke & Bone
,
Days of Blood & Starlight
,
Dreams of Gods & Monsters
A new epic fantasy by National Book Award finalist and New York Times bestselling author Laini Taylor of the Daughter of Smoke & Bone trilogy.

The dream chooses the dreamer, not the other way around—and Lazlo Strange, war orphan and junior librarian, has always feared that his dream chose poorly. Since he was five years old he's been obsessed with the mythic lost city of Weep, but it would take someone bolder than he to cross half the world in search of it. Then a stunning opportunity presents itself, in the person of a hero called the Godslayer and a band of legendary warriors, and he has to seize his chance to lose his dream forever.

What happened in Weep two hundred years ago to cut it off from the rest of the world? What exactly did the Godslayer slay that went by the name of god? And what is the mysterious problem he now seeks help in solving?
The answers await in Weep, but so do more mysteries—including the blue-skinned goddess who appears in Lazlo's dreams. How did he dream her before he knew she existed? and if all the gods are dead, why does she seem so real?

In this sweeping and breathtaking new novel by National Book Award finalist Laini Taylor, author of the New York Times bestselling Daughter of Smoke & Bone trilogy, the shadow of the past is as real as the ghosts who haunt the citadel of murdered gods. Fall into a mythical world of dread and wonder, moths and nightmares, love and carnage.

Welcome to Weep.

Strange the Dreamer was one my  top five most anticipated reads of 2017. Laini Taylor is one of my favorite authors–I am constantly blown away by her fantasy worlds and her lush, poetic writing. She is also one of the kindest people. Her new book offers up an eclectic mix of wonderful things. Alchemy? A mystery city? A library? Godspawn and blood candy? Where is this going, and can I visit?
Lazlo is a humble librarian who's always yearned for the fabled city of Weep. The world he inhabits is bleak yet full of magic if you know where to look. When he gets the chance to go see Weep for himself, the city's shadowed past is more than his books could have told him about. There are so many secrets to be had in the city's streets and with its residents. The more Lazlo learns, the more his own tale evolves. I adored Lazlo; he's contemplative, sensitive, and intelligent. When the going gets tough, he rolls with the punches.
Like with her bestselling Daughter of Smoke and Bone series, Strange the Dreamer deals with war and how it shapes people. Everyone we meet has been touched by a war between the citizens of Weep and the gods who lorded over them–Lazlo himself is a war orphan who was given to a monastery. The famed hero of Weep, Eril-Fane, is weighed down by his past with the gods. The anguish and grief of each character play from each page. It's heartbreaking, leading to people doing some horrific things.
Even with the bone-deep hatred and anguish in the novel, this is also a love story. It's instalove, which I'm not a fan of, but the way Laini Taylor takes you through the motions of falling in love is breathtakingly beautiful. It's a simple yet arresting look at first love that made me cry. 
There were some minor issues with pacing. The first half of the book reads like a long, detailed prologue. It gives us the chance to get more into Lazlo's head, which is great, yet other subplots are introduced and are then given their own detailed backstory, which stalls the pacing. Characters are introduced in the middle of the book that disappear later on. Overall, this first half could have been tightened up a bit.
However, when the ball gets rolling, it crushes everything in its path. By the cliffhanger ending, I was devastated, sitting in a chair trying to hold myself together devastated. The wait for the next book is going to be very long indeed. I can only dream of what's going to happen next.
Save