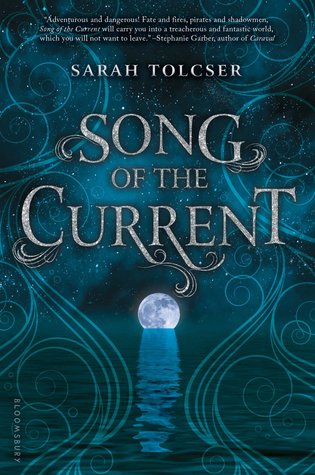 Song of the Current (Song of the Current #1)
by
Sarah Tolcser
Pages:
373
Published on
June 6th 2017
by
Bloomsbury Children's
Genres:
Action & Adventure
,
Fantasy
,
Young Adult
Format:
ARC
Source:
Borrowed
Goodreads
Also by this author:
Song of the Current (Song of the Current #1)
Caroline Oresteia is destined for the river. For generations, her family has been called by the river god, who has guided their wherries on countless voyages throughout the Riverlands. At seventeen, Caro has spent years listening to the water, ready to meet her fate. But the river god hasn't spoken her name yet—and if he hasn't by now, there's a chance he never will.

Caro decides to take her future into her own hands when her father is arrested for refusing to transport a mysterious crate. By agreeing to deliver it in exchange for his release, Caro finds herself caught in a web of politics and lies, with dangerous pirates after the cargo—an arrogant courier with a secret—and without the river god to help her. With so much at stake, Caro must choose between the life she always wanted and the one she never could have imagined for herself.

From debut author Sarah Tolcser comes an immersive and romantic fantasy set along the waterways of a magical world with a headstrong heroine determined to make her mark.
There seems to be a trend going on with my expectations for YA fantasy for 2017. There have been many titles I've been excited for and most of them have not been what I thought they would be. I was looking forward to Song of the Current, a book that takes place in a world navigated by ships. For some reason, the blurb made me think of ferrymen; what I got was a pirate adventure. Not that I'm complaining–pirate books should be a thing.  This is indeed a nice foray into adventures down rivers and open seas, but I wasn't as enchanted as I'd hoped to be.
We're introduced to Caroline and her father, Nick, who are wherrymen in the Riverlands. They're traders and sometimes smugglers, but they're decent people (completely possible). After they come across a mass of burned up ships in a nearby river town, Caroline's father is arrested for not wanting to transport a box down the river. Caroline agrees to take it and, upon doing so, is followed by privateers called the Black Dogs. She also makes a surprise discovery when she opens the box.
The Riverlands setting is so wonderfully murky and cool. I have many favorite settings for books, and swamps and rivers are in my top five list. I really enjoyed the visual imagery of the river, from the ships who sail its waters to the god who rules beneath. These beliefs in gods play a part for each person; there's the god in the river who guides the wherrymen, a god of shadows, and a god in the sea. The mythology adds a richness to the world.
The characters who populate this world are strong and savvy. Caroline is an enigmatic narrator. She's fierce and loyal, good with a sword as well as sarcastic comments. Her love for her father is obvious, her sadness that the god in the river seems to ignore her is poignant. However, there is a romance that comes into her life that I wasn't feeling. Her love interest is arrogant and rude, which provides plenty of verbal duels that were very entertaining. But I wasn't feeling it until the very end of the book. I think if they had only become friends, it would have worked out better.
As Caroline journeys farther from familiar surroundings, the world building starts to falter. Politics in different places become a major factor in the plot. After this happens, it's a little confusing remembering which place stands where in the long run.
For some reason, I never felt like Caroline and her crew were in danger. Many times, it's mentioned how dangerous the Black Dogs were. Evidence of their menace is present throughout the book. I was hoping to feel the danger with Caroline, but I think because most of the bad stuff happens off page, it takes away the momentum. It also doesn't help that things happen too conveniently for Caroline. There are several escape attempts that end wrapped in little bows. The danger levels should have been higher.
As much as I wanted more from Song of the Current, the Riverlands is a worthwhile setting to explore and Caroline is a great heroine.
My quest for a favorite new fantasy release of 2017 continues. 🙂