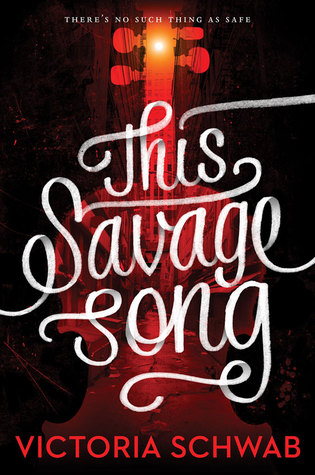 This Savage Song (Monsters of Verity, #1)
by
Victoria Schwab
Series:
Monsters of Verity #1
Pages:
464
Published on
July 5th 2016
by
Greenwillow Books
Genres:
Urban Fantasy
,
Young Adult
Format:
ARC
Source:
Publisher
Amazon
|
B&N
|
BookDepository
|
Goodreads
Also by this author:
The Archived
,
Vicious
,
A Darker Shade of Magic
,
A Gathering of Shadows
,
Our Dark Duet (Monsters of Verity, #2)
There's no such thing as safe in a city at war, a city overrun with monsters. In this dark urban fantasy from author Victoria Schwab, a young woman and a young man must choose whether to become heroes or villains—and friends or enemies—with the future of their home at stake. The first of two books.
Kate Harker and August Flynn are the heirs to a divided city—a city where the violence has begun to breed actual monsters. All Kate wants is to be as ruthless as her father, who lets the monsters roam free and makes the humans pay for his protection. All August wants is to be human, as good-hearted as his own father, to play a bigger role in protecting the innocent—but he's one of the monsters. One who can steal a soul with a simple strain of music. When the chance arises to keep an eye on Kate, who's just been kicked out of her sixth boarding school and returned home, August jumps at it. But Kate discovers August's secret, and after a failed assassination attempt the pair must flee for their lives.

To say I was enthused for Victoria Schwab's new YA novel is an understatement. I've only read A Darker Shade of Magic and own but still have to read The Archived and The Unbound, but I know she has unique storylines.  I was very lucky to get an ARC of This Savage Song from Epic Reads at the Yallwest festival and made it my top priority to get to it.
When it comes to fantasy, world building is a priority for me. This Savage Song's world building is phenomenal. The United States has broken up into territories; our story takes place in Verity. This territory is further divided by  a power struggle between Calum Harker, who rules the northern half with a mafia-style mentality, and Henry Flynn, who polices the south. The only thing these two sides of Verity have in common is the monsters. There are three types "bred" from horrifying origins, and they're each described with enough disturbingly creepy detail. It's these creative ideas that reaffirm why fantasy is still my favorite genre.
Our two main characters are Kate, Calum's daughter, and August, Henry's adopted son. When we first meet Kate, she's doing some shocking things to get back home. She's constantly trying to prove she's worthy of the Harker name. She's vicious, mean, and yes, unlikable. But unlikable characters don't bother me, and I found her fascinating because there's more to her than she lets on. August is a monster who wants to be human. He's conflicted and a little brooding (for obvious reasons), yet he's fond of his adopted family and adept at music for reasons he loathes. When they met, I was on the edge of my seat quickly flipping through the pages.
The pacing was incredible. I felt like I was given spoonfuls of information and things to think about to get me to read faster. It brought up questions like, "What makes someone a monster? What makes someone human?" The writing is gorgeous. Ms. Schwab makes even the most gruesome of scenes poetic, and those gruesome scenes happen often. Everything was tied together in a bow that is then shredded apart by the end of the book. Overall, it's gritty and violent and dark, and I really do love my dark storylines.
The reason I was so excited for This Savage Song was the lack of romance. A male and female character who meet and don't fall in love? Yes! Give me more books like this, please. I think if Kate and August had fallen in love, it would have taken away from the plot, and there's a lot that had to be covered. Which leads me to my critique.
I was disappointed that the book took the safe route on certain things. I was loving what I was reading, but there's a twist that's not very strong–in fact, it was quite predictable. I wanted more from the crisis and the twist. The ending leaves you with some questions, but there's a second book to look out for, after all. It's going to be a very long wait for that next book.
This is a heady fantasy penned by a talented storyteller. If you're looking for something a little creepy and very creative, try THIS SAVAGE SONG.