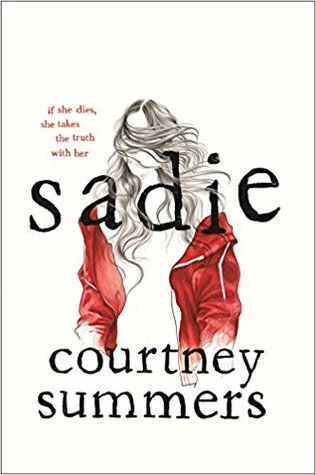 Sadie
by
Courtney Summers
Pages:
320
Published on
September 4, 2018
by
Wednesday Books
Genres:
Thriller
,
Young Adult
Format:
ARC
Source:
Amazon Vine
Amazon
|
B&N
|
Goodreads
Sadie hasn't had an easy life. Growing up on her own, she's been raising her sister Mattie in an isolated small town, trying her best to provide a normal life and keep their heads above water.

But when Mattie is found dead, Sadie's entire world crumbles. After a somewhat botched police investigation, Sadie is determined to bring her sister's killer to justice and hits the road following a few meagre clues to find him.

When West McCray—a radio personality working on a segment about small, forgotten towns in America—overhears Sadie's story at a local gas station, he becomes obsessed with finding the missing girl. He starts his own podcast as he tracks Sadie's journey, trying to figure out what happened, hoping to find her before it's too late.
I don't remember a time when I was equally anxious and excited for a book. I've read several of Courtney Summers' novels, and they never hold back on emotional punches.  Sadie is a story about perspectives and love and family. It made me angry. It made me hold my breath while reading. It broke my heart. I had to put the book down several times to reorient myself. There is violence and many disturbing moments. Even though I finished reading this a few weeks ago, this book still haunts me.
Told from the perspectives of West McCray, a radio show host and podcaster, and Sadie herself as she hunts down her sister's murderer, the two viewpoints offer unique, powerful turns. Sadie is driven by grief, but also a need for justice. Her sister was everything to her. Constantly brushed off because of her stutter, she proves time and again that she's a force to be reckoned with. She is a compelling narrator and my heart ached for her. The more we're in her head, the more we start to grasp her drive.
West is, at first, clinical with his observations with Sadie's story. As we "listen" to the podcast episodes, we see his perspective change. He becomes equally involved with finding answers. It's a fascinating character development as the two stories meld.
It's also a look at how we view young girls. We brush runaway girls off easily like specks of dirt. "Oh, she's just a runaway." "Oh, you know, she's just being dramatic so she ran away." When Sadie asks people for help, she's not taken seriously. When West is investigating, he tends to get answers a little more easily. No one takes girls seriously until they have to. This made me so angry because it's true.
Courtney Summers delivers another though-provoking read; this is, hands down, one of my top reads of the year. I'm confident Sadie will be the book that makes Summers' name more well known.