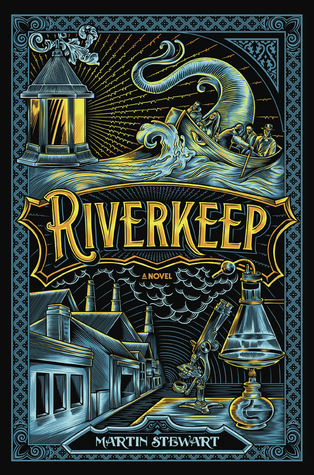 Riverkeep
by
Martin Stewart
Pages:
416
Published on
July 26th 2016
by
Viking Books for Young Readers
Genres:
Action & Adventure
,
Fantasy
,
Young Adult
Format:
eARC
Source:
Publisher
Amazon
|
B&N
|
Goodreads
A stunning debut perfect for fans of Patrick Ness and Neil Gaiman!
The Danék is a wild, treacherous river, and the Fobisher family has tended it for generations—clearing it of ice and weed, making sure boats can get through, and fishing corpses from its bleak depths. Wulliam's father, the current Riverkeep, is proud of this work. Wull dreads it. And in one week, when he comes of age, he will have to take over.
Then the unthinkable happens. While recovering a drowned man, Wull's father is pulled under—and when he emerges, he is no longer himself. A dark spirit possesses him, devouring him from the inside. In an instant, Wull is Riverkeep. And he must care for his father, too.
When he hears that a cure for his father lurks in the belly of a great sea-dwelling beast known as the mormorach, he embarks on an epic journey down the river that his family has so long protected—but never explored. Along the way, he faces death in any number of ways, meets people and creatures touched by magic and madness and alchemy, and finds courage he never knew he possessed.
Martin Stewart's debut novel is an astonishing blend of the literary, the comedic, and the emotionally resonant. In a sentence, it's The Wizard of Oz as told by Patrick Ness. It marks the beginning of a remarkable career.
Riverkeep looked like a unique epic fantasy: magic, monsters, a hero's journey which takes place on the water. While the book is loaded with the fantastical, it has its ups and downs.
On the freezing waters of the Danek river, Wulliam and his pappa, the Riverkeep, keep the river clear for travelers. When his father is overtaken by a parasitic creature, Wulliam, who's never left home and had no other human contact besides his father and the local mortician, decides to go on a quest to save him. The cure may lie in the body of a mythical sea beast. Crazy as it may sound, this idea had me, hook, line, and sinker. (Pun intended.)
The world building is cinematic. From the ice-thick river to the grimy, dangerous towns in the world of Oracco, I couldn't help wondering what Riverkeep would look like as a movie. It's broad in scope, tackling several plots and weaving them into a truly epic story. Usually I shy away from comparisons to other authors, but I could feel the Neil Gaiman and Patrick Ness vibes from the book's blurb.
Martin Stewart's writing is fluid and poetic. His take on how magic works in Riverkeep's world was fascinating; the details were well thought out. There's also an overall humor in the story in spite of its not-for-the-faint-of-heart imagery of gore and violence. We are even given glimpses of the sea beast's point of view.
While on his quest, Wull reluctantly helps an eclectic cast of characters: a stowaway called Mix, a young woman named Remedie who has a strange baby, and the standout being a man called Tillinghast. He has a strange past, and he's strange himself, but he's bawdy and funny. Wull, while a sympathetic character, could get whiny, BUT when he had to fight, he was ready and capable of doing so. His relationship with his father was very touching, and seeing the lengths he would go to help him were admirable.
As much as I enjoyed Riverkeep, it suffers from pacing issues. I mentioned before that the overall story is broad. It establishes characters and settings, and then jumps around from location to person, which unfortunately slows everything down. Just when I started getting into Wull's story, off we go to another subplot. Some of the characters didn't have a concrete reason to be there, and several subplots are left open to interpretation. It seemed to take forever to get anywhere, but is more than made up for in the climax.
I had my critiques of Riverkeep, but I still enjoyed it. Due to some of its themes, I recommend it for more mature YA readers or those looking for a well constructed fantasy.
**Thank you to the publisher for providing an eARC in exchange for an honest review.**