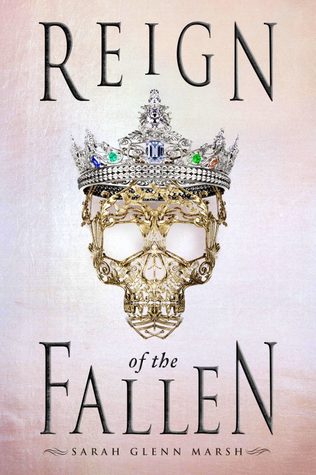 Reign of the Fallen
by
Sarah Glenn Marsh
Pages:
384
Published on
January 23rd 2018
by
Razorbill
Genres:
Fantasy
,
LGBT
,
Paranormal
,
Young Adult
Format:
eARC
Source:
Netgalley
Amazon
|
B&N
|
Goodreads
Odessa is one of Karthia's master necromancers, catering to the kingdom's ruling Dead. Whenever a noble dies, it's Odessa's job to raise them by retrieving their souls from a dreamy and dangerous shadow world called the Deadlands. But there is a cost to being raised--the Dead must remain shrouded, or risk transforming into zombie-like monsters known as Shades. If even a hint of flesh is exposed, the grotesque transformation will begin.

A dramatic uptick in Shade attacks raises suspicions and fears among Odessa's necromancer community. Soon a crushing loss of one of their own reveals a disturbing conspiracy: someone is intentionally creating Shades by tearing shrouds from the Dead--and training them to attack. Odessa is faced with a terrifying question: What if her necromancer's magic is the weapon that brings Karthia to its knees?
I received this book for free from the publisher or author in exchange for an honest review.
This does not affect my opinion of the book or the content of my review.
Reign of the Fallen was one of my most anticipated 2018 reads. Necromancers have always been a point of fascination for me, and the mention of a bisexual main character as well as other representation of the LGBTQIA community piqued my excitement.
Right from the start, the world of Karthia is nuanced with different ways of honoring the dead. Flowers used in ceremonies in different parts of the world are mentioned here. The Deadlands, a world that exists side by side with Karthia, are a beautiful yet surreal place. Its landscape always changes and, while a place for the spirits to live, is a midway point to some other realm beyond. The book is a beautiful acknowledgement of death. In some cultures, death is feared because it's the unknown. The dead are buried and sometimes forgotten. In Karthia, the mystical city in the book, the dead are raised and live side by side with the living. There's no fear or prejudice to those who are dead. I loved this.
The world is one I want to explore, but I also felt like the world building wasn't as strong as it could be. It seemed that for every new detail, another would come in to take its place without giving the previous items time to evolve. Eye color plays a major role with a person's magic. Before this can be thought out, we're introduced to something else. A new character would be introduced with their back story, followed by another character right after that. It makes the plot thin with all that set up in a short span of time. Meanwhile, someone is turning the dead into monsters called Shades. The necromancers are left reeling after tragedy finds them. The book could have stood tall if it had stayed on track with these two plots.
Odessa has a romance with a fellow necromancer named Evander; I couldn't buy them as a couple. I never got to know them well to become emotionally invested. But here's also another love interest for her as well. I am all for bisexual romance–this one, however, is uncomfortable. View Spoiler »Evander is killed by a Shade. Odessa, in her grief, turns to mind-numbing substances to forget about her pain. During this time, Meredy, Evander's long-absent sister, comes back looking for help. Odessa immediately sees Evander in Meredy and becomes attracted to her, with Meredy reciprocating. Which makes me wonder: does Odessa just like Meredy because she reminds her of Evander? « Hide Spoiler
While Reign of the Fallen is not what I thought it would be, the creativity and potential are very present. My interest guarantees I'll be reading the next one.