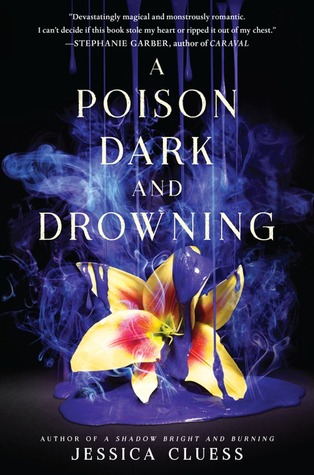 A Poison Dark and Drowning (Kingdom on Fire, #2)
by
Jessica Cluess
Pages:
432
Published on
September 19th 2017
by
Random House Books for Young Readers
Genres:
Action & Adventure
,
Fantasy
,
Historical Fiction
,
Young Adult
Format:
ARC
Source:
Amazon Vine
Amazon
|
B&N
|
Goodreads
Also by this author:
A Shadow Bright and Burning (Kingdom on Fire, #1)
,
House of Dragons (House of Dragons, #1)
The magicians want her to lead. The sorcerers want her to lie. The demons want her blood. Henrietta wants to save the one she loves. But will his dark magic be her undoing?

Henrietta doesn't need a prophecy to know that she's in danger. She came to London to be named the chosen one, the first female sorcerer in centuries, the one who would defeat the bloodthirsty Ancients. Instead, she discovered a city ruled by secrets. And the biggest secret of all: Henrietta is not the chosen one.

Still, she must play the role in order to keep herself and Rook, her best friend and childhood love, safe. But can she truly save him? The poison in Rook's system is transforming him into something monstrous as he begins to master dark powers of his own.

So when Henrietta finds a clue to the Ancients' past that could turn the tide of the war, she persuades Blackwood, the mysterious Earl of Sorrow-Fell, to travel up the coast to seek out strange new weapons. And Magnus, the brave, reckless flirt who wants to win back her favor, is assigned to their mission. Together, they will face monsters, meet powerful new allies, and uncover the most devastating weapon of all: the truth.
Remember when I said that Jessica Cluess' debut, A Shadow Bright and Burning, was a guilty pleasure read that led to greatness with the follow up? Holy smokes, everyone, it's true! A Poison Dark and Drowning is the action-packed, friendship-and-snarkery feast that leads to explosive revelations and a shocking conclusion.
Henrietta Howel is a heroine who proves her courage countless times throughout Poison. Even though countless forces expect her to fail (especially the higher-ranking sorcerers), she is dedicated to the cause of ridding England of the Ancients. She stands tall during dangerous times, can throw her weight to get things done, and will fight for her loved ones. Her role as the "Chosen One" certainly helps.
As she and her friends learn more about their monstrous foes, Henrietta also tries to maintain her bond with Rook, who is slipping away from her. While it's understandable why Henrietta and Rook are close, I never understood her feelings for him. So many times she tells others (and us) that he's her friend, but that changes quickly. And because of all the things centered around Henrietta, Rook gets brushed off to the side. Sadly, I sometimes forgot he was there until he wasn't.
There's also her friends Blackwood, brooding lord after my own heart, and Magnus, the carefree (or so he seems) trickster. Complexity comes from this group and delivers danger to each of them. Nothing comes easy for anyone. Henrietta, especially, has a heartbreaking reveal. This is one of the rare times when I can't figure out what is going to happen to anyone and it is driving me crazy.
It's so rare when a sequel outshines its predecessor, but A Poison Dark and Drowning is a sequel worth the read. I am ready for whatever happens in the finale. Can it be 2018 so Sorrow can be in my hands already?