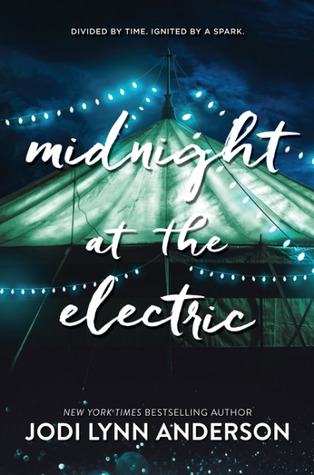 Midnight at the Electric
by
Jodi Lynn Anderson
Pages:
272
Published on
June 13th 2017
by
HarperTeen
Genres:
Dystopian
,
Historical Fiction
,
Science Fiction
,
Young Adult
Format:
Hardcover
Source:
Library
Amazon
|
B&N
|
Goodreads
Divided by time. Ignited by a spark.




Kansas, 2065. Adri has secured a slot as a Colonist—one of the lucky few handpicked to live on Mars. But weeks before launch, she discovers the journal of a girl who lived in her house over a hundred years ago, and is immediately drawn into the mystery surrounding her fate. While Adri knows she must focus on the mission ahead, she becomes captivated by a life that's been lost in time…and how it might be inextricably tied to her own.

Oklahoma, 1934. Amidst the fear and uncertainty of the Dust Bowl, Catherine fantasizes about her family's farmhand, and longs for the immortality promised by a professor at a traveling show called the Electric. But as her family's situation becomes more dire—and the suffocating dust threatens her sister's life—Catherine must find the courage to sacrifice everything she loves in order to save the one person she loves most.

England, 1919. In the recovery following the First World War, Lenore struggles with her grief for her brother, a fallen British soldier, and plans to sail to America in pursuit of a childhood friend. But even if she makes it that far, will her friend be the person she remembers, and the one who can bring her back to herself?

While their stories spans thousands of miles and multiple generations, Lenore, Catherine, and Adri's fates are entwined.

I read Midnight at the Electric slowly, not because I was bored, but because I didn't want to miss the way the writing moved from one thing to the other. This entire book is not about the destination, but the journey of its three main characters. 
The book starts with Adri, who is antisocial and afraid of letting people care for her. Some would call Adri an unlikable character: she's quick to judge people, even Lily, her elderly distant cousin, and squashes any chance of friendship even though she's lonely. At times, I was frustrated with her, but she reminded me a lot of myself from a few years ago so I knew where she was coming from. Letting people in to your life is hard. However, finding Catherine and Lenore's letters transforms her. She gradually realizes that letting people get to know her, while scary, might not be so bad. Adri's character arc, from unwilling to learning to let people in, is beautiful. 
Catherine's story takes place during the Dust Bowl era. The historical setting is done simply yet still leaves you with enough to picture the land and the people. The fear of the dust storms, which are slowly making her sister sick, was a constant, but she still remains hopeful that her sister can be healed. Catherine's parts were my favorites. Her writing is compelling, and even at its bleakest, her voice kept me reading. She's fallen in love for the first time, too, but her need to help her sister is stronger.
Tying all of the narratives together is Lenore, Catherine's mother's childhood friend. She's grieving for her brother, but the friendship she makes with a young man challenges her in the ways she never imagined. At first it took me a while to get in to her part in everything, but once all the pieces of her involvement with the entire story are revealed, I was reeling. It's a wild spin on the "six degrees of separation" that starts with one creature. The whole tone is sad, but when I reached the end, I wept. It is so bittersweet and moving.
Part of me feels like Midnight at the Electric could have been longer, but if it had been, it would have lost its emotional power. This book is haunting–it's a satisfying, slow burn novel I'll be thinking about for a long time.