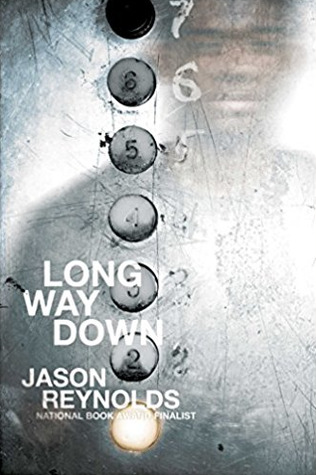 Long Way Down
by
Jason Reynolds
Pages:
320
Published on
October 24th 2017
by
Atheneum/Caitlyn Dlouhy Books
Amazon
|
B&N
|
Goodreads
A cannon. A strap.A piece. A biscuit.A burner. A heater.A chopper. A gat.A hammerA toolfor RULE

Or, you can call it a gun. That's what fifteen-year-old Will has shoved in the back waistband of his jeans. See, his brother Shawn was just murdered. And Will knows the rules. No crying. No snitching. Revenge. That's where Will's now heading, with that gun shoved in the back waistband of his jeans, the gun that was his brother's gun. He gets on the elevator, seventh floor, stoked. He knows who he's after. Or does he? As the elevator stops on the sixth floor, on comes Buck. Buck, Will finds out, is who gave Shawn the gun before Will took the gun. Buck tells Will to check that the gun is even loaded. And that's when Will sees that one bullet is missing. And the only one who could have fired Shawn's gun was Shawn. Huh. Will didn't know that Shawn had ever actually USED his gun. Bigger huh. BUCK IS DEAD. But Buck's in the elevator? Just as Will's trying to think this through, the door to the next floor opens. A teenage girl gets on, waves away the smoke from Dead Buck's cigarette. Will doesn't know her, but she knew him. Knew. When they were eight. And stray bullets had cut through the playground, and Will had tried to cover her, but she was hit anyway, and so what she wants to know, on that fifth floor elevator stop, is, what if Will, Will with the gun shoved in the back waistband of his jeans, MISSES.

And so it goes, the whole long way down, as the elevator stops on each floor, and at each stop someone connected to his brother gets on to give Will a piece to a bigger story than the one he thinks he knows. A story that might never know an END…if WILL gets off that elevator.
Long Way Down is the book you'd give to a person skeptical about YA. The person who thinks there is no quality literature for a young audience would be hard pressed to find something to dismiss about Jason Reynolds' book. It's a quick read with hard-hitting themes. Breaking cycles of violence, life-altering moments, and the aftermath are all explored through Will, a young boy who has just lost his brother in a shooting. As payback, Will is going to take care of the perpetrator himself, but the ride down the elevator to get his revenge brings truths to light.
This is my first verse novel. This is my first Jason Reynolds novel. The verse delivers a series of emotional punches that pull the reader along. Whether it's a clever play with meaning or the manner they're presented on the page, Reynolds uses his words expertly. 
"ANOTHER THING ABOUT THE RULES
They weren't meant to be broken.
They were meant for the broken
to follow."   –page 35
"I know what you thinkin'.
That I was scared
of
to death."   –page 85
Will's a sympathetic character with a strong voice. This story is all his own, while at the same time being a story of a family and community deeply affected by violence. He's lost his brother and several family members to gun violence. In their community, vengeance is the only answer to an end. As he makes his way down the elevator and the truths are presented, Will realizes he has a choice. Can he break the cycle of violence when it's part of his upbringing? What would it mean for Will to continue with his plan or abandon it? How the question is answered is the reason this novel should be read.
Long Way Down is haunting and timely. I'm definitely going to read Jason Reynolds' backlist. If his books are anything like this, he is an author everyone should check out. Anyone who loves realistic fiction (and anyone who doubts YA in general) should read this book.