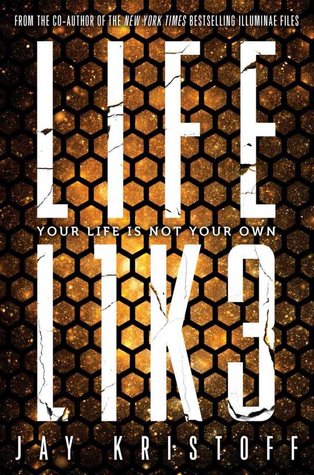 LIFEL1K3 (Lifelike, #1)
by
Jay Kristoff
Pages:
416
Published on
May 29, 2018
by
Knopf Books for Young Readers
Genres:
Action & Adventure
,
Dystopian
,
Friendship
,
Postapocalyptic
,
Science Fiction
,
Young Adult
Format:
ARC
Source:
Borrowed
Amazon
|
B&N
|
Goodreads
Also by this author:
Stormdancer
,
Kinslayer
,
Endsinger
,
Stormdancer
,
Kinslayer
On a floating junkyard beneath a radiation sky, a deadly secret lies buried in the scrap.

Eve isn't looking for secrets—she's too busy looking over her shoulder. The robot gladiator she's just spent six months building has been reduced to a smoking wreck, and the only thing keeping her Grandpa from the grave was the fistful of credits she just lost to the bookies. To top it off, she's discovered she can destroy electronics with the power of her mind, and the puritanical Brotherhood are building a coffin her size. If she's ever had a worse day, Eve can't remember it.

But when Eve discovers the ruins of an android boy named Ezekiel in the scrap pile she calls home, her entire world comes crashing down. With her best friend Lemon Fresh and her robotic conscience, Cricket, in tow, she and Ezekiel will trek across deserts of irradiated glass, infiltrate towering megacities and scour the graveyard of humanity's greatest folly to save the ones Eve loves, and learn the dark secrets of her past.

Even if those secrets were better off staying buried.
Okay. Wow. Likel1k3 is my first Jay Kristoff novel and it was not what I was expecting, which is not a bad thing. When I first read the blurb, I got a Mad Max vibe to it. I thought Eve, our main character, was going to spend all of her time trying to outsmart the Brotherhood, zealots who want to purge the dystopian world our story takes place in of "unnatural" people. I thought it was going to be a crazy race through the desert with Eve and her BFF Lemon Fresh and Eve's robot sidekick.
It's kind of this. But 100% not really.
It's a dystopia. The world is bleak, scarred by war and pollution, riddled with discarded technology and people scrapping to survive. The oceans are polluted, no place is safe, and everyone has secrets. I think I'd last an hour in this place–and I love it. The world building is cinematic; as I'm discovering with Kristoff's writing (I've started reading his backlist), he knows how to create a place and the people who live there.

It's a book about friendship. The bond between Eve and Lemon is amazing. These two are thick as thieves through everything. They're sassy, smart, and are more than willing to throw down for each other. And Cricket, Eve's android, is the lovable curmudgeon. Not since K2S0 from Rogue One have I adored an android.
There's a backstory here that is the real star of the show. As I was reading it, I was in denial. Kristoff is nothing but a master of twists and surprises, and as the backstory is revealed, I was putting the book down in stunned wonder.
View Spoiler »
This book is an Anastasia retelling. It's so subtly woven in that it sneaks up on you. « Hide Spoiler
As far as things that weren't working for me, there's distracting instalove. It plays an important part to the plot but it's so weird and sticks out considering the bleakness of the setting. It also slows down the pace. I wasn't feeling it, but I'm not letting that distract me though from all the surprises and the promise of an explosive sequel that yours truly will be waiting for.