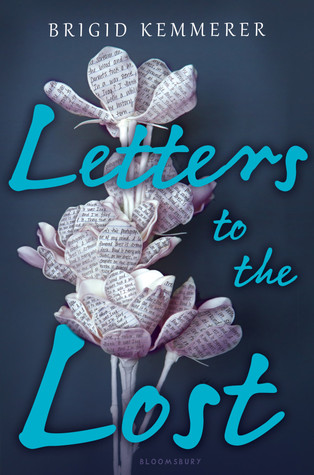 Letters to the Lost
by
Brigid Kemmerer
Pages:
400
Published on
April 4th 2017
by
Bloomsbury USA Childrens
Genres:
Friendship
,
Romance
,
Young Adult
Format:
Hardcover
Source:
Library
Amazon
|
B&N
|
Goodreads
Also by this author:
More Than We Can Tell (Letters to the Lost, #2)
,
A Curse So Dark and Lonely (A Curse So Dark and Lonely, #1)
,
A Heart So Fierce and Broken (Cursebreakers, #2)
Juliet Young always writes letters to her mother, a world-traveling photojournalist. Even after her mother's death, she leaves letters at her grave. It's the only way Juliet can cope.
Declan Murphy isn't the sort of guy you want to cross. In the midst of his court-ordered community service at the local cemetery, he's trying to escape the demons of his past.
When Declan reads a haunting letter left beside a grave, he can't resist writing back. Soon, he's opening up to a perfect stranger, and their connection is immediate. But neither Declan nor Juliet knows that they're not actually strangers. When life at school interferes with their secret life of letters, sparks will fly as Juliet and Declan discover truths that might tear them apart.
Have you ever felt you were going to like a book even before you read it? I felt that way about Letters to the Lost. It drew me in with its premise (because I love my dark stories) and gorgeous cover. It's a sad yet surprisingly hopeful look at two people dealing with grief who find a connection through letters and eventually e-mails.
Through the use of notes, we get a look into the life of Juliet Young, a girl reeling from the death of her mother, who leaves her mom notes at her gravesite. Juliet put her mom on a pedestal and feels responsible for her death since she begged her to come early. Working community service at the cemetery is Declan Murphy, the bad boy in Juliet's school. He's got a chip on his shoulder a mile wide, running from his past and trying to hide the grief that will eventually bring Juliet into his life. After reading Juliet's latest note, Declan feels the need to respond. This starts their anonymous correspondence.
Normally, my issue with dual first person narrators is that they tend to sound the same. In Letters to the Lost, it's a little tricky figuring out who's narrating which part because it's never indicated in the chapter breaks, but Juliet and Declan have distinct voices. Tentative with their writing at first, as they get to know each other, their feelings spark into something more.
Finding out about their lives is a tough yet worthwhile journey. Declan's past is particularly upsetting; his current home environment, with an oblivious mother and mean stepfather, isn't much better.
Fortunately, aside from each other, Juliet and Declan can also turn to others in their lives. Juliet's always written her father off as mediocre compared to her mom, but over time, she realizes he's a good-hearted man whom she is lucky to have. Her best friend Rowan proves a pillar of strength in Juliet's life. Declan has his best friend Rev. Rev's past is just as upsetting as Declan's, but Rev is proof that you can't let your past define you. He's a stoic, calm voice of reason for Declan, supportive yet ready to tell Declan the hard truth when the pity party's about to happen. Rev is my favorite character in the entire book–and definitely one of my favorite characters of all time.
The characters arcs in Letters to the Lost are so beautifully done, nuanced, and inspiring. Each character is flawed, and that's what I liked about all of them. Seeing their growth, separate and apart, makes this book a true winner.
I cannot recommend Letters to the Lost enough. This is, hands down, one of my favorite books of the year. (And I am so happy there's a companion book featuring Rev slated to release in 2018). 🙂