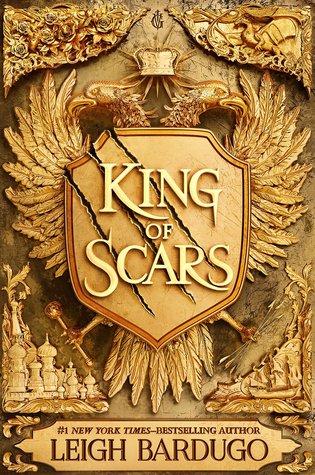 King of Scars (Nikolai Duology, #1)
by
Leigh Bardugo
Pages:
528
Published on
January 29, 2019
by
Imprint
Genres:
Action & Adventure
,
Fantasy
,
Young Adult
Format:
Hardcover
Source:
Purchased
Amazon
|
B&N
|
Goodreads
Also by this author:
Shadow and Bone
,
Siege and Storm
,
Ruin & Rising
,
Shadow and Bone
,
Siege and Storm
Nikolai Lantsov has always had a gift for the impossible. No one knows what he endured in his country's bloody civil war—and he intends to keep it that way. Now, as enemies gather at his weakened borders, the young king must find a way to refill Ravka's coffers, forge new alliances, and stop a rising threat to the once-great Grisha Army.

Yet with every day a dark magic within him grows stronger, threatening to destroy all he has built. With the help of a young monk and a legendary Grisha Squaller, Nikolai will journey to the places in Ravka where the deepest magic survives to vanquish the terrible legacy inside him. He will risk everything to save his country and himself. But some secrets aren't meant to stay buried—and some wounds aren't meant to heal.
I've been waiting for this book since Siege and Storm. From the moment Nikolai Lantsov graced the page with his wit and swagger, I was in love and desperate for the continuation of his story. While King of Scars expands on the world of the Grisha, there were some things lacking from the overall plot–the biggest being the title character.
From the stink of a fish cannery to the glittering snow of country in the far north, this world is a feast for the imagination. There's intrigue and scheming of all kinds. The fantastic elements are rich and move the plot forward. And the snark! This book is a love letter to snark. Every one of the characters must have some mandatory requirement to be able to quip. There were so many good one liners that made me laugh. Even in the most dire of situations, count on someone to have a quick thought on it to ease the mood.
There are also several romantic subplots that burn slow. Have you ever found yourself demanding that two characters tell each other how they feel when they obviously wear their feelings on their sleeves, or scream for the characters who are in to each other to kiss already? There was a lot of that going on while I was reading this.
But several key issues stuck out to me. The book takes a while to get going. There's a lot of setup for future events, which drags the plot down. My biggest issue though was, for a book entitled King of Scars, Nikolai feels like a side character. His book is shared with Zoya, general of the Grisha army, and Nina, who was my favorite character in the Six of Crows books. While seeing familiar faces (and having Nina's story continue) were great, Nikolai's arc suffers a lot for it.
View Spoiler »
Oh and let's also talk about Leigh's skilled ability to create new characters to care about and then her effective soul-crushing ability to take them away, because what's the point of caring about someone? 🙁 Honestly, everyone, my heart hurts.  « Hide Spoiler
I'll still be there to see this journey through to the end. But good god, leave my heart out of it.