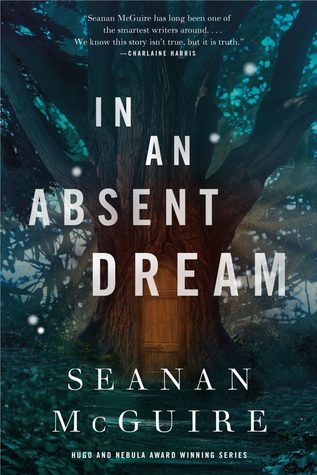 In an Absent Dream (Wayward Children, #4)
by
Seanan McGuire
Pages:
204
Published on
January 8, 2019
by
Tor.com
Genres:
Adolescence
,
Adult
,
Fantasy
Format:
Hardcover
Source:
Purchased
Amazon
|
B&N
|
Goodreads
Also by this author:
Every Heart a Doorway (Wayward Children, #1)
,
Down Among the Sticks and Bones (Wayward Children, #2)
,
Beneath the Sugar Sky (Wayward Children, #3)
This fourth entry and prequel tells the story of Lundy, a very serious young girl who would rather study and dream than become a respectable housewife and live up to the expectations of the world around her. As well she should.

When she finds a doorway to a world founded on logic and reason, riddles and lies, she thinks she's found her paradise. Alas, everything costs at the goblin market, and when her time there is drawing to a close, she makes the kind of bargain that never plays out well.
Seanan McGuire's ability to make big worlds in the tiny parameters shows her skill as a storyteller. (More thoughts on this later). I adore the Wayward Children—who hasn't imagined what it would be like to stumble into a magical world? But to have to leave it, for better or worse, is the explored through the protagonists of each novella. One of the best things about the series is that anyone can be transported to these worlds.
I was really excited for Lundy's book. Someone who goes to the fabled Goblin Market has been used in fiction before, but McGuire's Goblin Market is based on reason and rules. Lundy loves rules. She's always been bookish and quiet. She's okay with not having friends; who needs friends when she has books? It's a match made in heaven, but if the rules are broken, steep prices must be paid. She was a minor character in the first book and you find out exactly how she got into her predicament.
We first meet her as the middle child of an average family until she finds her door. Both worlds–the one Lundy comes from and the one she finds–are given enough detail for the reader, and the rest is left to imagination. Both present different opportunities for her; both say they want the best for her. Several of McGuire's insights about Lundy's worlds that are hard-hitting.
A good chunk of Lundy's time at the Goblin Market is, unfortunately, infodumping the whys and hows of the Market and not enough time for Lundy's actual stays there. Lundy makes friends, one of which is Moon, a girl who can't stay out of trouble. She and Moon and another girl mentioned have amazing adventures–that happen off-page. I wanted to see these adventures play out. I wanted to get to know Mockery since she obviously was a treasured friend.  As much as the novella format worked for me with the first and second book, I think the worlds of the Wayward Children are growing too large with their possibilities. And that's saying something–this is the longest novella in the series so far.
In the end, I did enjoy the book, and you know I'll be there for the next one. I'm keeping my fingers crossed for two particular stories in the future.