The Graveyard Book
by
Neil Gaiman
Pages:
312
Published on
September 30th 2008
by
HarperCollins
Genres:
Adolescence
,
Middle Grade
,
Paranormal
Format:
Audiobook
Length:
7 hours and 47 minutes
Source:
Library
Amazon
|
B&N
|
Goodreads
Also by this author:
The Sleeper and the Spindle
After the grisly murder of his entire family, a toddler wanders into a graveyard where the ghosts and other supernatural residents agree to raise him as one of their own.
Nobody Owens, known to his friends as Bod, is a normal boy. He would be completely normal if he didn't live in a sprawling graveyard, being raised and educated by ghosts, with a solitary guardian who belongs to neither the world of the living nor of the dead. There are dangers and adventures in the graveyard for a boy. But if Bod leaves the graveyard, then he will come under attack from the man Jack—who has already killed Bod's family...
Beloved master storyteller Neil Gaiman returns with a luminous new novel for the audience that embraced his New York Times bestselling modern classic Coraline. Magical, terrifying, and filled with breathtaking adventures, The Graveyard Book is sure to enthrall readers of all ages.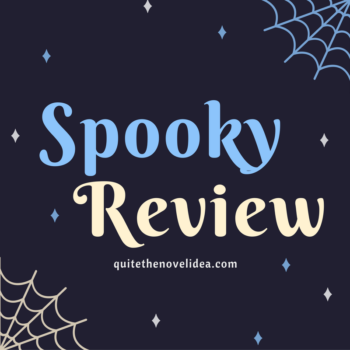 This was my "give an author another chance" book. I'd been drawn to Neil Gaiman's works, but I never found myself invested in them that much. Stardust was so-so. I still have American Gods partially read on my shelf. I picked up The Graveyard Book on audio for the first time last year, because it's about a boy growing up with ghosts.
I am so happy I gave Neil Gaiman another shot.
Inspired by Ruyard Kipling's The Jungle Book, The Graveyard Book is a novel in stories. It's about a young boy who ends up in a graveyard after a tragedy. A man only known as Jack is pursuing him. Named Nobody by the resident ghosts and adopted by the deceased Mr. and Mrs. Owens, "Bod" grows up under the guidance of the spirits and Silas, his mysterious guardian.
One of the novel's strongest points is how it captures the spirit of childhood. It doesn't matter that Bod is in a graveyard–he's just a boy who likes exploring, games, and asking questions about the world. We follow him from a young boy to a teen, and each part plays into his character growth. Seeing him with his found family, finding his path, was a worthwhile journey. I cared about Bod. He's one of my top five favorite fictional characters.
Each story has him encountering something new. As a small boy, he befriends a girl who's moved to town. He learns the dangers of the graveyard in my favorite story, The Hounds of God. He goes to school beyond the graveyard and realizes why secrecy of who he is is important. He also realizes that his life is still in danger. As the book progresses, it becomes, not only Bod's coming of age story, but also a tale of cunning and wits.
Listen to The Graveyard Book on audio if you can. Neil Gaiman performs each part and his obvious love for his characters radiates from each word. He emotes Bod's innocence, his family's gentle wisdom and humor, and the mysteries that lie beyond. By the time I got to the end, I felt like I had heard something important. I've since listened to The Graveyard Book a few times and I still feel that way. That was when I knew this book had worked its magic on me.
This is the book that made me a Neil Gaiman fan. I've since read and listened to his newer books, but The Graveyard Book holds a special place in my heart.