This book may be unsuitable for people under 17 years of age due to its use of sexual content, language, and/or violence.
Every Heart a Doorway (Wayward Children, #1)
by
Seanan McGuire
Pages:
173
Published on
April 5th 2016
by
Tor.com
Genres:
Adult
,
Fantasy
Format:
Hardcover
Source:
Purchased
Amazon
|
B&N
|
Goodreads
Also by this author:
Down Among the Sticks and Bones (Wayward Children, #2)
,
Beneath the Sugar Sky (Wayward Children, #3)
,
In an Absent Dream (Wayward Children, #4)
Eleanor West's Home for Wayward ChildrenNo SolicitationsNo VisitorsNo Quests

Children have always disappeared under the right conditions; slipping through the shadows under a bed or at the back of a wardrobe, tumbling down rabbit holes and into old wells, and emerging somewhere... else.

But magical lands have little need for used-up miracle children.

Nancy tumbled once, but now she's back. The things she's experienced... they change a person. The children under Miss West's care understand all too well. And each of them is seeking a way back to their own fantasy world.

But Nancy's arrival marks a change at the Home. There's a darkness just around each corner, and when tragedy strikes, it's up to Nancy and her new-found schoolmates to get to the heart of the matter.

No matter the cost.
I've always been fascinated by "portal fantasy" (my favorite being The Lion, The Witch, and the Wardrobe). When I heard about Every Heart a Doorway last year, I read it with joy. I re-read it to prepare for the companion novel, Down Among the Sticks and Bones, wondering if my thoughts had changed over time. They haven't–if anything, I love this novella even more. It's beautifully written with well-defined characters, intrigue, and some of the most spectacular worlds ever to grace a page. It delivers so much with the amount of time it has.
The book centers around a home for children who tumbled through doors, mirrors, or any other device and have been swept into different places, and had been "kicked out" of those places. These children now have to readjust to their surroundings, but they usually end up longing for their worlds.
This is especially true for new girl Nancy, who yearns to return to her world. She's not exactly a main character, but more like the window we see through at the story that's being told. This is not off putting or distancing; rather, it's fitting for the book since entrances and exits are central to the story. There's a killer loose on the school grounds, and we experience all of the horror through Nancy's observations.
Nancy is asexual. The way she explains it to her roommate is clear without sounding like a textbook explanation to the audience. I'm not ace, but seeing ace rep in a book is wonderful. There are books few and far between with this representation.
The children all manage to pull at your heartstrings even they're not the best. My heart especially went out to Sumi, Nancy's roommate, a girl who lived a sheltered, controlled life before she was transported to her raucous candyland, and Kade, who was rejected from his fairy tale world and can never go back. I cared about these two young people so much. Rounding out this group of friends is Christopher and twin sisters Jack and Jill. You can feel each of their longings for home.
Each world could have been its own book, especially Nancy's and Lundy's, the child psychologist who leads group therapy at the home. The worlds are each given exquisite detail, just enough to imagine. There were places I never could have imagined: a world populated by skeletons, a place where people run on rainbows. Some were colorful. Some were dangerous. Each one "chose" the child for certain reasons. It's a wonderful feast of words.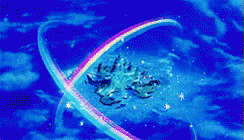 My minor complaints (and I'm not alone with it) are that the killer's identity is easy to figure out and this story is a novella. This could have easily been longer. With the amount of worlds and possibilities, this is a series that could go on for a while. But maybe it's better that way. This is one story I treasure for the characters and the places I can only imagine.
Those looking for new places to discover can find them in Eleanor West's Home for Wayward Children.