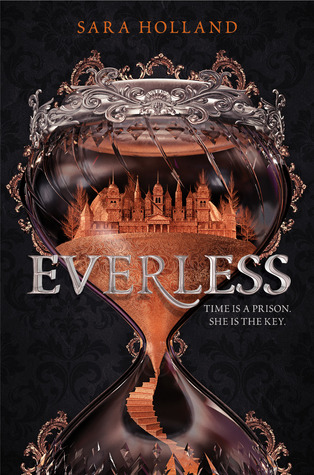 Everless (Everless, #1)
by
Sara Holland
Pages:
362
Published on
January 2, 2018
by
HarperTeen
Genres:
Fantasy
,
Romance
,
Young Adult
Format:
Hardcover
Source:
Library
Amazon
|
B&N
|
Goodreads
In the kingdom of Sempera, time is currency—extracted from blood, bound to iron, and consumed to add time to one's own lifespan. The rich aristocracy, like the Gerlings, tax the poor to the hilt, extending their own lives by centuries.

No one resents the Gerlings more than Jules Ember. A decade ago, she and her father were servants at Everless, the Gerlings' palatial estate, until a fateful accident forced them to flee in the dead of night. When Jules discovers that her father is dying, she knows that she must return to Everless to earn more time for him before she loses him forever.

But going back to Everless brings more danger—and temptation—than Jules could have ever imagined. Soon she's caught in a tangle of violent secrets and finds her heart torn between two people she thought she'd never see again. Her decisions have the power to change her fate—and the fate of time itself.
I've been getting snakebitten by YA fantasy late. I appreciate the offerings of unique ideas and worlds. The executions though have not worked for me. I think the commonly used tropes are starting to wear thin.
Everless has a world where time literally is money. Blood can be molded into currency, and time can literally be given and taken away. Some people squander time; others crave more of it. We see both of these viewpoints and the way it shapes the people. It made me re-evaluate how I spend my time. I actually appreciated that.
When Jules goes back to Everless, the estate run by the powerful Gerling family, the novel loses its footing. Characters are introduced who are only there to help Jules and then disappear from the story. Two people help Jules on her quest for answers and then, halfway through the book, are never mentioned again. Jules has a childhood crush on Roan, the son of the lord and lady of Everless. Her emotions are based on what she remembers as a child; as a young woman and man though, there's nothing there besides little flirtations. We never get to know Roan, just that he's a flirt. Roan's brother Liam is also introduced as the "misunderstood brooding boy" who's of course not at all bad. He was…okay.
There's the makings of a wonderful girl friendship here. Jules and the Queen's ward Ina develop a delicate yet moving bond after Jules becomes her lady-in-waiting. At first, Jules distrusts and even (unfairly) hates Ina, but as she gets to know her, Jules sees that Ina is a caring, gentle soul with secrets of her own. I'd like to see where this goes in the next book.
As much as the magic system and friendship was great, the rest of the novel is a little predictable and underwhelming. There's a subplot involving the reasons behind blood irons and two figures from history who've had a hand it in, and this was cool. However, it was obvious to me what it had to do with everyone in the book.
Everless is not a bad book, but if you're familiar with tropes, you'll probably call things quickly. I am curious to see what happens to Ina in the second book. I just hope the snakebite doesn't happen again.