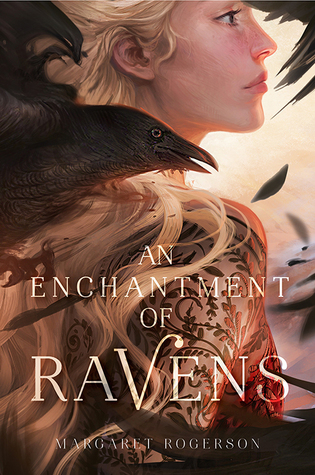 An Enchantment of Ravens
by
Margaret Rogerson
Pages:
304
Published on
September 26th 2017
by
Margaret K. McElderry Books
Genres:
Fairies
,
Fantasy
,
Romance
,
Young Adult
Format:
ARC
Source:
Amazon Vine
Goodreads
Also by this author:
Sorcery of Thorns
Isobel is a prodigy portrait artist with a dangerous set of clients: the sinister fair folk, immortal creatures who cannot bake bread, weave cloth, or put a pen to paper without crumbling to dust. They crave human Craft with a terrible thirst, and Isobel's paintings are highly prized among them. But when she receives her first royal patron—Rook, the autumn prince—she makes a terrible mistake. She paints mortal sorrow in his eyes – a weakness that could cost him his life.

Furious and devastated, Rook spirits her away to the autumnlands to stand trial for her crime. Waylaid by the Wild Hunt's ghostly hounds, the tainted influence of the Alder King, and hideous monsters risen from barrow mounds, Isobel and Rook depend on one another for survival. Their alliance blossoms into trust, then love, violating the fair folks' ruthless Good Law. There's only one way to save both their lives, Isobel must drink from the Green Well, whose water will transform her into a fair one—at the cost of her Craft, for immortality is as stagnant as it is timeless.

Isobel has a choice: she can sacrifice her art for a future, or arm herself with paint and canvas against the ancient power of the fairy courts. Because secretly, her Craft represents a threat the fair folk have never faced in all the millennia of their unchanging lives: for the first time, her portraits have the power to make them feel.
An Enchantment of Ravens was one of my most anticipated books of 2017. After my string of recent disappointments in YA fantasy, this novel managed to break my disappointment streak and remind me why I love this genre. Gorgeously told, with a hero and heroine that made me laugh and swoon, this is definitely one of my favorites of the year.
Hate turning to love is a favorite trope of mine, and while this starts off as an attraction on Isobel's part, it dissolves into mistrust that then turns to love. At first I was a little turned off by how quickly it happens (and with little explanation besides "I was starting to fall in love with Rook," hence the half star), but as the story presses on, I began to feel their love for one other develop.
Isobel is smart and witty; she's not afraid to love her aunt and her adopted sisters (who have a hilarious back story), and later, Rook. And Rook is arrogant and brooding, but he's not afraid of his emotions and his love for a human girl. I was surprised to find that, while their courtship had me saying "aww" a few times, it was also very humorous. I don't remember the last time I chuckled over a declaration of love, but the one in here had me doing so.
The worlds of the fair folk are so deceptively beautiful. If you're familiar with the workings of the faeries, you'll remember that time moves differently there, that the fair folk are cunning and scary with their emotional detatchment and seemingly oblivious look at human life. Added to the lore are some other additions that really make this faerie world refreshing. How it handles magic, the fair folk, and the romance is all expertly done.
I am actually sad that this is a standalone, because I feel like there's a lot more that can be explored. But it ended where it had to, and I am so dizzy with joy that I read it. Highly recommended!