Defy the Stars
by
Claudia Gray
Series:
Defy the Stars #1
Pages:
512
Published on
April 4th 2017
by
Little
,
Brown Books for Young Readers
Genres:
Young Adult
,
Science Fiction
Format:
Hardcover
Source:
Library
Amazon
|
B&N
|
Goodreads
Also by this author:
Defy the Stars (Constellation, #1)
She's a soldier.
Noemi Vidal is seventeen years old and sworn to protect her planet, Genesis. She's willing to risk anything—including her own life. To their enemies on Earth, she's a rebel.
He's a machine.
Abandoned in space for years, utterly alone, Abel has advanced programming that's begun to evolve. He wants only to protect his creator, and to be free. To the people of Genesis, he's an abomination.
Noemi and Abel are enemies in an interstellar war, forced by chance to work together as they embark on a daring journey through the stars. Their efforts would end the fighting for good, but they're not without sacrifice. The stakes are even higher than either of them first realized, and the more time they spend together, the more they're forced to question everything they'd been taught was true.

Science fiction is normally not my go-to genre, but once in a while, a sci fi novel will leap out at me; Defy the Stars is that book. I'm very happy it did because it's a space opera that boasts incredible worlds and two characters who have made my OTP list.
The novel is told from the alternating third points of view of Noemi, a soldier from the planet Genesis, and Abel, a human-looking android who was created by a wealthy scientist from Earth. The two planets have been at war for a while, and Noemi is in the middle of a test flight when she crosses paths with Abel. Needless to say, it's not a harmonious meeting, but the two end up making a reluctant alliance when Noemi learns Abel has some information that she can use for Genesis' cause.
Traipsing across the galaxy and seeing new worlds with Noemi and Abel is so much fun. The world building of the planets is so complex and rich. There's breezy Kismet, where life's a party; arid Cray, built for thinkers and students; industrial Stronghold, for miners. I was fascinated by the idea of these worlds. As someone who's spent lots of time with her head in the clouds, imagining what these worlds are like is a blast.
As they move from planet to planet, they meet various people who challenge Noemi's ideas on her home world. While this is a driving part of her character arc, like other reviewers, I can't put my finger on what, exactly, is it that people accuse Genesis of doing. At first I thought I had missed something, but there is no concrete reason for these accusations.
I can't accuse this book on not having a very entertaining slow burn romance. Noemi is determined to destroy Abel, but as she gets to know him, she sees that he's more than just a machine. I felt like there were different sides to Noemi that never got explored aside from her life as a soldier. Her backstory is acknowledged but not as fleshed out as it needed to be.
And there's Abel. He's like a mixture of Data from Star Trek and Sheldon from The Big Bang Theory, with his literal thinking and his slight superiority complex. He's been stranded on a space station for thirty years before he meets Noemi, so his mind has had time to evolve. Reading his chapters offers a humorous and heartfelt glimpse of his thought processes. The more I got to know Abel, the more he melted my heart, superior thinking and all.
The way their relationship grows from mutual dislike to tentative trust is engaging, and when they realize they might have something more, I was on board. 🙂 It was such a beautiful story arc that touched my heart and brought tears to my eyes so many times. The ending, while promising something grand (because there is a second book planned–yay!), has the most satisfyingly heartbreaking finales.
While I'm nursing my poor heart and counting down the days to the sequel, I'll entertain myself with gifs of Data wondering about human quirks.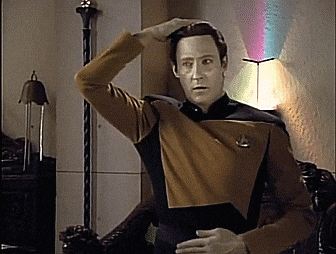 Save