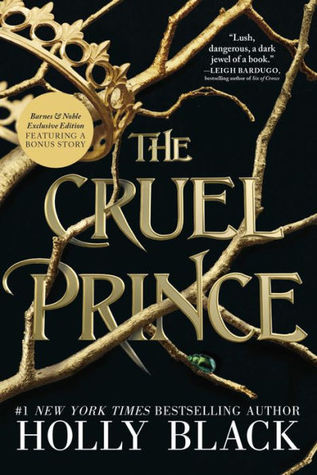 The Cruel Prince (The Folk of the Air, #1)
by
Holly Black
Pages:
384
Published on
January 2nd 2018
by
Little
,
Brown Books for Young Readers
Genres:
Fairies
,
Fantasy
,
Young Adult
Format:
Hardcover
Source:
Purchased
Amazon
|
B&N
|
Goodreads
Also by this author:
The Coldest Girl in Coldtown
,
The Coldest Girl in Coldtown
,
White Cat
,
The Wicked King (The Folk of the Air, #2)
,
The Queen of Nothing (The Folk of the Air, #3)
By #1 New York Times bestselling author Holly Black, the first book in a stunning new series about a mortal girl who finds herself caught in a web of royal faerie intrigue. This Barnes & Noble exclusive edition features a special jacket and bonus story starring fan-favorites Kaye and Roiben of the bestselling Tithe series, allowing readers to witness the pivotal coronation scene from an alternate point of view.

Of course I want to be like them. They're beautiful as blades forged in some divine fire. They will live forever.

And Cardan is even more beautiful than the rest. I hate him more than all the others. I hate him so much that sometimes when I look at him, I can hardly breathe.

Jude was seven years old when her parents were murdered and she and her two sisters were stolen away to live in the treacherous High Court of Faerie. Ten years later, Jude wants nothing more than to belong there, despite her mortality. But many of the fey despise humans. Especially Prince Cardan, the youngest and wickedest son of the High King.

To win a place at the Court, she must defy him--and face the consequences.

In doing so, she becomes embroiled in palace intrigues and deceptions, discovering her own capacity for bloodshed. But as civil war threatens to drown the Courts of Faerie in violence, Jude will need to risk her life in a dangerous alliance to save her sisters, and Faerie itself.
I consider myself to be a nice, kind-hearted person, but there's a part of me that delights in dark, twisted stories. I am utterly fascinated by these stories and gladly devour them. Holly Black's books are always a romp into the dangerous and bloody. Her scary faeries are my favorites and I'm here for them every time. The Cruel Prince weaves this intoxicating story of political intrigue, backstabbing, murder, and secrets with a madcap delight that manages to shock and awe.
The mayhem starts early, and I shouldn't be shocked by it (it's in the book description) but Black knows how to emotionally grab readers. At first, I thought the book was going to be about Jude and her sisters trying to survive their new world. While this is certainly there, there's a bigger plot on top of this. Jude's in the middle of it. Each of her sisters finds their survival method; Vivi's is defiance; Taryn, Jude's twin, just wants to belong.
Jude wants to earn respect. She's cunning, conflicted about her feelings toward Faerie, and is always at odds with the youngest prince of Faerie, Cardan. They hate each other. They do hurtful things to each other. They bring out the absolute worst in the other–and I was loving every second of it. Cardan's bad news. He really is a cruel prince–and yet.
The entire plot is a devastating slow burn. Just when you thought more secrets couldn't possibly come into play, they do. Ideas and little details someone might glance over reveal themselves, leaving you putting them together when everything hits the fan later on. I'm still reeling.
I had always wondered if Black's faerie novels all shared the same world, and they do! I whooped with delight at the cameos from the Modern Faerie Tales and The Darkest Part of the Forest. Seeing familiar faces I cared about in past novels is bliss.
I was a fan of Black's books after devouring her Modern Faerie Tales series, but The Cruel Prince manages to outdo itself with the schemes and tricks. It's going to be a long, long wait for the next book.