Our Chemical Hearts
by
Krystal Sutherland
Pages:
320
Published on
October 4th 2016
by
G.P. Putnam's Sons Books for Young Readers
Genres:
Young Adult
,
Contemporary
,
Romance
Format:
Hardcover
Source:
Library
Amazon
|
B&N
|
Goodreads
John Green meets Rainbow Rowell in this irresistible story of first love, broken hearts, and the golden seams that put them back together again. Henry Page has never been in love. He fancies himself a hopeless romantic, but the slo-mo, heart palpitating, can't-eat-can't-sleep kind of love that he's been hoping for just hasn't been in the cards for him—at least not yet. Instead, he's been happy to focus on his grades, on getting into a semi-decent college and finally becoming editor of his school newspaper. Then Grace Town walks into his first period class on the third Tuesday of senior year and he knows everything's about to change. Grace isn't who Henry pictured as his dream girl—she walks with a cane, wears oversized boys' clothes, and rarely seems to shower. But when Grace and Henry are both chosen to edit the school paper, he quickly finds himself falling for her. It's obvious there's something broken about Grace, but it seems to make her even more beautiful to Henry, and he wants nothing more than to help her put the pieces back together again. And yet, this isn't your average story of boy meets girl. Krystal Sutherland's brilliant debut is equal parts wit and heartbreak, a potent reminder of the bittersweet bliss that is first love.
I've been wrestling with how to rate Our Chemical Hearts, because at one point, I understood what author Krystal Sutherland was trying to convey, but there were times when I wanted to throw the book at the wall. It is a true roller coaster of emotion that reminded me of the film 500 Days of Summer. It has some high points. It also has some very low ones.
The novel is told with humor throughout, except when things are not so funny–more on this later. Henry and his friends Lola and Murray are a snarky motley crew. Some of their banter and misadventures made me smile, like Murray reliving his ex-girlfriend breaking up with him, but after a while, the humor got so tiresome. I am all for snarky characters. Some of my favorite books have them. However, Henry's friends started feeling like caricatures more than characters. I also think the narration of Our Chemical Hearts was trying too hard to sound "young," as in make as many references to what teens like now and jam it into the book.
This book is not afraid to look at the good and bad of a first relationship, which I appreciated. When we first meet Henry, he's a boy who's idealistic about his first love. When he sees Grace, he sees an enigma that he would like to solve. She's distant, yet intriguing, which attracts him to her.

All the while though, Grace shifts between being a friend and potential girlfriend to someone who Henry realizes is not who he thought she was. Or what he wants her to be.
~Slight spoilers ahead~
The book portrays grief in a real, visceral manner. Grace was in an accident that killed someone she wholeheartedly loved. Her grief becomes a character; her longing for her loved one is apparent and painful. These were all honest. What I had a huge problem with is that Grace has trauma she needs to deal with (depression and PTSD primarily) and Henry romanticizes Grace's problems by thinking his love will heal her. Romanticizing mental illness is a big no in my book.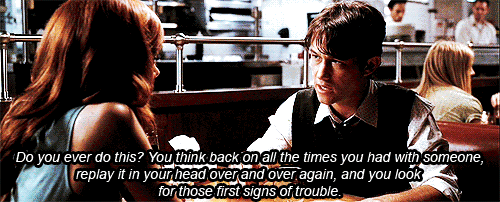 When Grace looks at Henry, she's not really seeing him. It becomes a very toxic relationship for both people. First love is not always perfect, which is the tagline of the book, but it was hard to witness. This is also very heavy material considering the overall sarcastic narration.
There was so much potential for Our Chemical Hearts. In the end, it was not for me.
Save