This book may be unsuitable for people under 17 years of age due to its use of sexual content, language, and/or violence.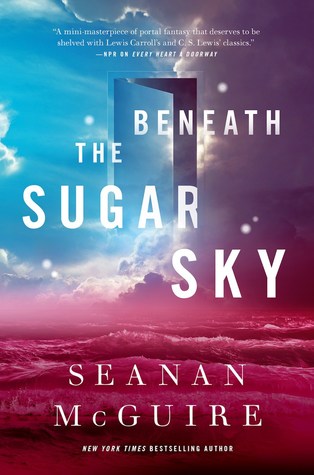 Beneath the Sugar Sky (Wayward Children, #3)
by
Seanan McGuire
Pages:
174
Published on
January 9th 2018
by
Tor.com
Genres:
Adult
,
Fantasy
Format:
Hardcover
Source:
Purchased
Amazon
|
B&N
|
Goodreads
Also by this author:
Every Heart a Doorway (Wayward Children, #1)
,
Down Among the Sticks and Bones (Wayward Children, #2)
,
In an Absent Dream (Wayward Children, #4)
Beneath the Sugar Sky returns to Eleanor West's Home for Wayward Children. At this magical boarding school, children who have experienced fantasy adventures are reintroduced to the "real" world.

Sumi died years before her prophesied daughter Rini could be born. Rini was born anyway, and now she's trying to bring her mother back from a world without magic.

It's no secret I adore the Wayward Children books. They're a skillful blend of world building and dynamic characters in a tiny universe of a novella. Seanan McGuire's imaginings of these world beyond found doors never cease to amaze–there are worlds where the dead rule, where people run on rainbows, where people become heroes and are promised lands to rule.
Beneath the Sugar Sky asked the question: what would happen if a character from a previous book's future came calling? Sounds strange, but this is Wayward Children workings. What you get is a romp through different doors in a madcap race against time to save the world called Confection. This nonsensical candy land is exactly what it sounds like: a world made of sugar. The grass is frosting. The ocean is soda. There are candy corn fields and gingerbread buildings. My teeth hurt just reading about it. 🙂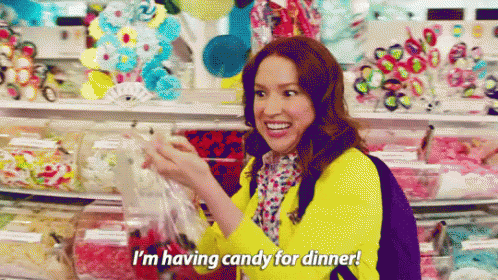 Each character has their chance to shine. Old and new characters come together to set things right in Confection. I liked all of them and just want to give them hugs, especially Kade, the stoic leader.  Also, there is so much representation. There are people of color, queer kids, fat girls, people with disabilities. If you're looking for diverse fantasy, this series is for you.
The way the plot moves was another matter. There was a lot of infodumping as the kids try to figure out the rules of the worlds. This really slowed things down, especially with the novella's length. One should not be left wondering the rules of worlds that aren't even in the book. But really, this is a small inconvenience. The pros outweigh the con in the case.
And the best part is that we are getting (at least) two more books in the series. My excitement is infinite. My need is real. My recommendation of these books continues to anyone looking for a truly magical series.