This book may be unsuitable for people under 17 years of age due to its use of sexual content, language, and/or violence.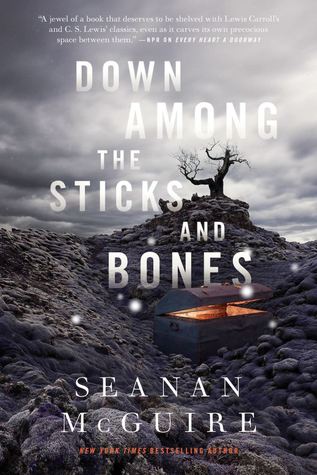 Down Among the Sticks and Bones (Wayward Children, #2)
by
Seanan McGuire
Pages:
176
Published on
June 13th 2017
by
Tor.com
Genres:
Adult
,
Fantasy
Format:
Hardcover
Source:
Purchased
Amazon
|
B&N
|
Goodreads
Also by this author:
Every Heart a Doorway (Wayward Children, #1)
,
Beneath the Sugar Sky (Wayward Children, #3)
,
In an Absent Dream (Wayward Children, #4)
Twin sisters Jack and Jill were seventeen when they found their way home and were packed off to Eleanor West's Home for Wayward Children.

This is the story of what happened first…

Jacqueline was her mother's perfect daughter—polite and quiet, always dressed as a princess. If her mother was sometimes a little strict, it's because crafting the perfect daughter takes discipline.

Jillian was her father's perfect daughter—adventurous, thrill-seeking, and a bit of a tom-boy. He really would have preferred a son, but you work with what you've got.

They were five when they learned that grown-ups can't be trusted.

They were twelve when they walked down the impossible staircase and discovered that the pretense of love can never be enough to prepare you a life filled with magic in a land filled with mad scientists and death and choices.

Down Among the Sticks and Bones, a companion to Seanan McGuire's bittersweet Every Heart a Doorway, was a priority on my reading list. It took a little bit longer for me to get into the plotting of this one than with Doorway, but by the time things get going, this novella is as thrilling as its predecessor. 
This is the story of Jacqueline and Jillian, identical twin sisters, and what happened before they went to the Home for Wayward Children. Modeled by their parents to be the idea of the perfect child, Jacqueline is dressed in frilly dresses, told to be quiet and never get dirty. Jillian is encouraged to play sports and be one of the boys. One day they find a stairway in a trunk belonging to their grandmother, which leads to a door. Their lives will never be the same after.
Down Among the Sticks and Bones is an emotional tug-of-war. I was angry that Jacqueline and Jillian (later Jack and Jill) were born to selfish, clueless parents. I was sad that these two sisters didn't know how to be siblings and friends because of their upbringing. I was heartbroken when the new world they go to draws them further apart. Jack grows up with Dr. Bleak, a mad scientist; Jill is taken in by the Master, a charismatic vampire. All of their distance could have been bridged if they had just talked.
That these emotional punches take place in less than 200 pages is artistic genius. Seanan McGuire has a firm grasp on her story and what she wants the reader to experience. As with Doorway, the writing is so poetic and moving. I was especially struck by this line:
"Some adventures require nothing more than a willing heart and the ability to trip over the cracks in the world." –page 50
The characters are all well thought out. Jack and Jill are each their own person who eventually find their true selves in their new surroundings. As I mentioned, their birth parents are horrible, but I like that we see their motivation as opposed to it being a minor detail.
What keeps me from giving this a higher rating is a disappointing subplot that happens near the end.It took me by surprise and actually put a break in my reading experience. I don't think it needed to happen.
While I am let down with the subplot, Down Among the Sticks and Bones is well-written, with the skilled world building and characters introduced in the first novella. I look forward to the next book, Beneath the Sugar Sky.