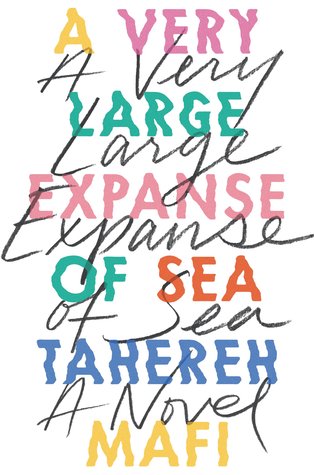 A Very Large Expanse of Sea
by
Tahereh Mafi
Pages:
320
Published on
October 16, 2018
by
HarperTeen
Genres:
Culture
,
Romance
,
Social Issues
,
Young Adult
Format:
Hardcover
Source:
Purchased
Goodreads
Also by this author:
Furthermore
It's 2002, a year after 9/11. It's an extremely turbulent time politically, but especially so for someone like Shirin, a sixteen-year-old Muslim girl who's tired of being stereotyped.

Shirin is never surprised by how horrible people can be. She's tired of the rude stares, the degrading comments—even the physical violence—she endures as a result of her race, her religion, and the hijab she wears every day. So she's built up protective walls and refuses to let anyone close enough to hurt her. Instead, she drowns her frustrations in music and spends her afternoons break-dancing with her brother.

But then she meets Ocean James. He's the first person in forever who really seems to want to get to know Shirin. It terrifies her—they seem to come from two irreconcilable worlds—and Shirin has had her guard up for so long that she's not sure she'll ever be able to let it down.

A Very Large Expanse of Sea spoke to me. This is a very personal story; Mafi says this is inspired by her own adolescence. There are times when it gets more "tell and no show" to make up for time, which is the only tick I have for the book. The voice is strong. It's a love letter to breakdancing. It's a look at family and the possibility of friendship and love.
Shirin is angry. Post 9-11, she's been harassed, gossiped about, and attacked because of what people assume of her. She and her family have moved from city to city and it's always the same thing. She prefers to keep people at a distance. That is, until her brother starts a breakdancing club at their newest school and she meets Ocean James. I can't imagine the racism and profiling post September 11th Tahereh Mafi or main character Shirin experienced. That is heartbreaking, and I wanted to apologize to them. If you have experienced this, I'm so sorry.
Mafi handles various perspectives of, not just how people view Shirin, but how she views everyone around her. Shirin is cursory, unwilling to let people get to know her because, most of the time, it leads to assumptions and disappointment. She does this with her own family sometimes. However, Shirin, her brother Navid, and her parents each have unbreakable bonds. Seeing them grow closer over breakdancing, which was also a big thing when I was growing up (I had to Google some of the dance moves mentioned though), is wonderful. When she finally decides to let Ocean and new friends into her life, it's strange. Mafi is a wonder at creating engaging relationships. Shirin and Ocean were interesting. At first, I wasn't buying it–things were happening very fast, but as time went on, I was rooting for them.
I understood Shirin. Growing up, I was constantly let down by some of my family and peers I thought were friends. Over time, it just became easier for me to never get too close. It's emotional protection. I know it's not the best thing to do, but to this day, I still do it. So seeing someone else do this for their emotional well being too was hard–but her resolution was necessary and something I strive to do as well.
This is a book I will hold close to my heart. Readers looking for a moving coming-of-age novel will find it in A Very Large Expanse of Sea.