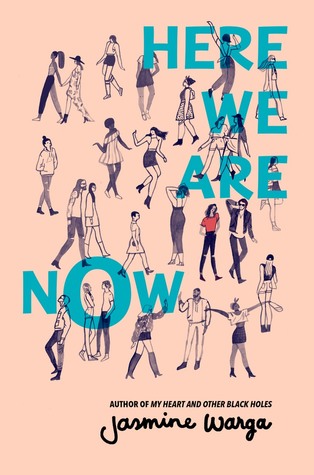 Here We Are Now
by
Jasmine Warga
Pages:
304
Published on
November 7th 2017
by
Balzer + Bray
Genres:
Young Adult
,
Contemporary
,
Romance
Format:
eARC
Source:
Edelweiss
Amazon
|
B&N
|
BookDepository
|
Goodreads
Despite sending him letters ever since she was thirteen, Taliah Abdallat never thought she'd ever really meet Julian Oliver. But one day, while her mother is out of the country, the famed rock star from Staring Into the Abyss shows up on her doorstep. This makes sense - kinda - because Julian Oliver is Taliah's father, even though her mother would never admit it to her.

Julian asks if Taliah if she will drop everything and go with him to his hometown of Oak Falls, Indiana, to meet his father - her grandfather - who is nearing the end of his life. Taliah, torn between betraying her mother's trust and meeting the family she has never known, goes.

With her best friend Harlow by her side, Taliah embarks on a three-day journey to find out everything about her 'father' and her family. But Julian isn't the father Taliah always hoped for, and revelations about her mother's past are seriously shaking her foundation. Through all these new experiences, Taliah will have to find new ways to be true to herself, honoring her past and her future.
The Gist:
– The romance was not the center
– The family dynamics
– Getting to know your family
– Forgiveness, understanding, growth and maturity
– Adventure, in a way
– Self-discovery through discovery of origins
– Learning when to hold on and when to let go
– Learning how to be sorry, and how to admit
– The characters all felt so real
– Not only invested in the character growth of Tal, but also of Julian and Lena
The Review:
Honestly, when I first read the synopsis for Here We Are Now, I didn't know whether I would like it or not. However, since it's written by Jasmine Warga, I decided to give it a chance. I'm so glad that it's so much more than what I expected, and I'm happy that I didn't brush it off like I had originally planned.
"I think the problem is that sometimes when we love someone, we see a certain version of them. And we get attached to that version. Convince ourselves that that's the only version, the true version."
Here We Are Now is told in alternating chapters between Tal's story, and her parents' (Lena and Julain's) story. The more we get to know Tal and Julian, the more we get to know about Lena as a teenager as well. Reading Lena's chapters, I really got to understand why she brought up Tal the way she was brought up, and why her and Oliver's relationship ended that way.
"But I believe strongly that we all have multiple versions of ourselves. And the true test of love is learning to accept all of those versions, even when it's messy. Actually, especially when it's messy."
There are so many things to love about this book. First, I love how romance was not the center of the story. Most contemporary books have romance at its center. Here We Are Now has romance in store for us as well, but it's more of like a side note to the center of the story, which is the family aspect. Not that that makes the romance any less amazing, because I loved everything about it as well.
"That's the toughest thing about love, right? The way the people we love are constantly changing and we have to learn how to accept those changes. Love isn't a constant thing, you know? It's active. It's always growing."
Second, I love the family dynamics on Tal's father side. From the grandma, Aunt Sarah and the twins, they make for a rowdy family. But you can just see how much they love each other and how much they would do everything for each other. There may be a lot of misunderstandings between them, but at the end of the day, you know they care for each other.
"Songs feel so much like your pain, your love, your longing, that you forget they were born from someone else's."
Third, I love how there was growth not just with Tal, but also with Julian and Lena. In this novel, Tal learned how to trust. I Julian learned how to understand, to cherish and know when to let go. Lena learned how to become vulnerable in front of those she loves the most. I saw the three of them learn how to own mistakes and work through them, how to forgive others, and most of all, themselves. Each of these characters had issues in the beginning of the novel, but I saw each one of them learn things and become better persons through their experiences, and I absolutely loved that.
"You seemed lost and found at the same times. And that's how I feel most of the time too."
Finally, I love how all the characters felt so real. All the characters are not without flaws, and I saw each one of them work through their problems. They felt so realistic precisely because of that aspect, and I became all the more invested in their stories and their growth.
"That a big part of love is learning to accept different versions of the person you love, but that it's also important to love the version of yourself that the person you love brings out. That sometimes it's possible to love someone fully, but still need to leave. That seemed heartbreaking to me. And that's how I knew it was true."
Here We Are Now is filled with themes of forgiveness, understanding, growth, maturity, self-discovery, and family, and I loved every bit of it. By watching the characters learn, I also learned a few things myself. Beautifully written and amazingly told, Here We Are Now is definitely a must-read for everyone!
**Disclaimer: All quotes were taken from the eARC version of the novel and not the final one.