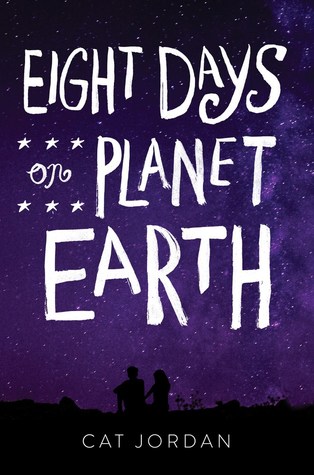 Eight Days on Planet Earth
by
Cat Jordan
Pages:
352
Published on
November 7th 2017
by
HarperTeen
Genres:
Young Adult
,
Romance
,
Contemporary
Format:
eARC
Source:
Edelweiss
Amazon
|
B&N
|
BookDepository
|
Goodreads
How long does it take to travel 13 light-years to Earth?How long does it take to fall in love?

To the universe, eight days is a mere blip—but to Matty Jones, it may be just enough time to change his life.

On the hot summer day Matty's dad leaves for good, a strange girl suddenly appears in the empty field next to the Jones farm—the very field in rural Pennsylvania where a spaceship supposedly landed fifty years ago. She is uniquely beautiful, sweet, and smart, and she tells Matty she's waiting for her spaceship to return to pick her up.

Of course she is.

Matty has heard all the impossible UFO stories for all of his seventeen years: the conspiracy theories, the wild rumors, the crazy belief in life beyond the stars. As a kid, he searched the skies with his dad and studied the constellations. But all that is behind him now. Dad's gone and Matty's stuck.

But now there is Priya. The self-proclaimed alien girl. She must be crazy or high, right?

As Matty unravels the mystery of Priya, he realizes there is far more to her than he first imagined. And if he can learn to believe in what he can't see: the universe, aliens…love…then maybe the impossible is possible, after all.
Eight Days on Planet Earth intrigued me not because I'm interested in aliens, but because of how well-written the synopsis is. This particular line got me – "And if he can learn to believe in what he can't see: the universe, aliens…love…then maybe the impossible is possible, after all." And despite not liking alien stories, I felt the need to read it. However, I must say that completely was not what I was expecting at all.
On the day his father left, Matty finds a strange girl in the field in their farm, claiming to be an alien. Matty doesn't know what to believe, but for some reason this strange and beautiful girl draws him. Matty and Priya spend days together, waiting for her supposed spaceship to pick her up. As days pass, Priya grows more and more frail, and Matty dreads the day when he has to say goodbye to her.
Eight Days on Planet Earth was intriguing at first, but for the most part of the story it was bland. For a story that supposedly took place only within eight days, it sure did drag on for what felt like more than that. I'm a pretty fast reader compared to others and I can usually finish books in 1-2 days if I want to. But with this book? I read it for two weeks. For some reason it just couldn't hold my attention, and I became easily distracted.
It was only when it came to the last 20% or so of the book that I came to appreciate this book. This was where Matty came to terms with his feelings towards the leaving of his father, thereby being more honest with himself. This was also where the twist happened, if we can actually call it that. It was predictable, but I believe that the author may have done that intentionally. I really liked how everything connected and solidified towards the end. It was a sad ending, but I felt like it was an appropriate one.
Overall, this book was dragging and bland save for the last 20% or so of the book, where everything came together and made more sense.