Hidden Stars is a new feature I created to shine a spotlight on the hidden stars of the bookish community. Because some authors are so talented and have published amazing books, but they're hidden in the shadows of the bigger names in the publishing world. Today I'm going to shine a spotlight on Philip Siegel.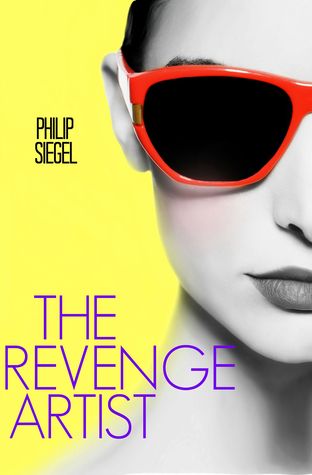 The Revenge Artist
by
Philip Siegel
Series:
Break-Up Artist #2
Published on
November 18th 2015
by
Philip Siegel
Genres:
Young Adult
,
Contemporary
,
Romance
Format:
eBook
Source:
Author
Amazon
|
Goodreads
Also by this author:
The Break-Up Artist
They say money can't buy you love. Becca Williamson begs to differ.

Once upon a time, Becca was the Break-Up Artist, tearing apart unhealthy relationships at her school for just $100 via PayPal. But after a job went really wrong, she went legit for love and now brings couples together. Crushing on that supercute guy in Chemistry but too shy to say hi? Becca has the right formula. Pining for that artsy girl who vowed never to date a jock? Becca will ensure love conquers all. She's even engineered a relationship of her own: the funny, sweet and unbelievably cute Fred Teplitzky, the one guy who knows exactly what to say to make our unflappable heroine&amp...well, flappable.

But before she can pick out a graduation robe and enjoy her last months at Ashland High, Becca has to deal with a new Break-Up Artist on the block. And this master manipulator is dead set on one thing: revenge. Someone is going around destroying all of the couples she's worked hard to unite. Now Becca has to outwit and outscheme her new foe in a dirty cat-and-mouse chase filled with hacked emails, video surveillance, reputation ruining and a few candy hearts. Especially when she realizes that the Revenge Artist's number one target is her and Fred.

Looks like there are no such things as clean breaks.
I received this book for free from the publisher or author in exchange for an honest review.
This does not affect my opinion of the book or the content of my review.
When I read The Break-Up Artist in 2014, I ended up being pleasantly surprised because the book turned out to be a lot of fun, but also more emotional than I had expected going into it. So imagine my surprise when the author contacted me about reviewing the sequel! I was scared at first, because contemporary sequels often have too much drama and I'm not very fond of that. But I'm happy to say The Revenge Artist was just as fun and engaging as I hoped it would be!
The Revenge Artist starts off a few months after The Break-Up Artist ended. Becca is no longer the break-up artist, but instead helps couples get together. On top of that, she's dating someone herself! The cute, funny and sweet Fred knows exactly what to say to make Becca weak in the knees. Becca is ready to graduate and leave Ashland High behind, but it seems she has other things to deal with first. Another break-up artist is on the block and focuses on one thing: revenge. Someone is destroying the couples Becca united and Becca has to find out who it is and stop them. Especially since it seems like her own relationship is the schemer's next target.
If you haven't read The Break-Up Artist (which you should, just sayin'), don't worry! There's enough of a recap spread throughout the book. Since I read the first book quite a while ago, I was scared I'd be lost, but I never was. You can totally read this one without having read the first book. And yes, it's spread throughout. People who have read the first book already won't be overwhelmed by an endless monologue detailing everything they just read. And people who haven't are just reading a book and getting pieces of information as they need it. So yay! Everyone wins!
Once again, I found myself having so much fun reading this! Becca could become a bit annoying a few times for making the same mistakes she made in the last book, and the identity of the Revenge Artist was ultimately not very surprising, but that's about it. It was still so much fun and surprisingly emotional, much like the first book was. Though I think it helped that I went into it with moderate expectations. Yes, this may not be too realistic, but I don't really care? I still think this view on High School is pretty accurate, though maybe looked at through a looking glass. So if you're going to pick this one up, which I hope you do, just have fun with it.
I liked the writing, because it once again gave me a look inside Becca's head. I liked how new this romantic relationship was to her. She's come far since the first book and she grows even more in this one. I also liked her friendship with her sister and Val. Her romance with Fred was cute and developed nicely throughout the book. All the characters were fun and realistic and I like that I didn't come across any stereotypes whatsoever. I would've liked to see her parents more because I liked their interactions.
All in all, I was happy to revisit these characters. I had fun and I even teared up a few times. If you've read and enjoyed the first book, you really should pick this one up too! If not, you should still read this one or both. Because The Break-Up Artist and The Revenge Artist are two YA contemporary books that really do deserve more attention!
Interview
First off, why don't you tell me a bit more about yourself?
I'm from New Jersey originally, now living in Chicago. And as of this year, I am officially a full-time writer, which is both exciting and terrifying! I'll admit I wasn't much of a reader growing up. I loved watching TV and going to the movies, and I think visually when I write.
What made you start writing YA Contemporary?
What's great about YA is that it's fast-paced, with an emphasis on the story and characters rather than the perfect prose. It was like writing a screenplay. I don't think I could ever write a literary novel like Tom Wolfe or Jonathan Franzen. Too many words. Plus, YA is a tight-knit, passionate community of readers and authors, and I wanted to be a part of it. I've always written contemporary. I never read sci-fi or fantasy growing up. Our current world is exciting enough.
How did Becca's story come to life?
One of my favorite movies is My Best Friend's Wedding, and Julia Roberts's character is one of the all-time greats. She's this dark, cynical person thrown into a romantic comedy. I wanted to bring her into the world of YA, which is filled with instalove and first crushes and all these sweet feelings. At the same time, I had some friends in bad relationships, but in those situations, you can't really say anything for fear they'll get angry at you. It made me wish there was someone who could do the dirty work for me.
The Break-Up Artist was originally published by Harlequin Teen. What made you switch to self-publishing for this one?
Soon after Harlequin was acquired by HarperCollins, they cancelled my series. Such is life. Everyone at H-Teen was great to work with, and this was strictly business, not personal. When the rights reverted back to me, I looked into small publishers and e-only imprints, but I felt like I could do this on my own. I've met authors who self-published and absolutely love it. Turns out, I love it, too. I got to design my own cover, hire people, develop my own marketing plan (which most traditionally published authors have to do, too). Amazon and Createspace make it incredibly easy.
What can you share about any future projects you're working on?
I'm still deciding on my next project, so I don't have any news to share on this front. But I can say with 99% certainty that it will not be a sequel to The Revenge Artist. I'm going to give poor Becca a break this time.
Any tips you'd like to share for aspiring authors like myself?
Think of writing as work, not fun. As Stephen King said, "Butt in seat. Hands on keys." You have to put in the effort, and it won't be pretty. I believe many aspiring writers stumble because they go into writing thinking it'll be a fun activity, that the story will flow out of them. And then it doesn't, and they get discouraged. Writing is hard work. You need to approach it with a work mindset so you can weather the bumps and blocks.
If you want to read the first 4 chapters of The Revenge Artist for free, just sign up for the Schemers & Dreamers Club. You'll get access to other exclusive content and be the first to know about his next books!
Find Philip online!
Website / Facebook / Goodreads / Twitter