Hidden Stars is a new feature I created to shine a spotlight on the hidden stars of the bookish community. Because some authors are so talented and have published amazing books, but they're hidden in the shadows of the bigger names in the publishing world. Today I'm going to shine a spotlight on Laurie McKay.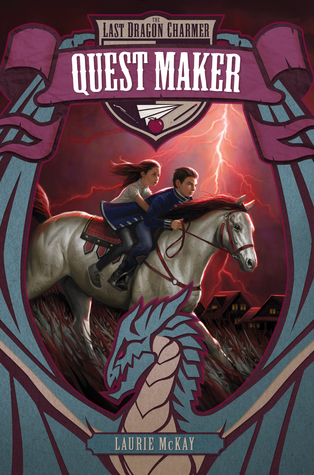 Quest Maker
by
Laurie McKay
Series:
The Last Dragon Charmer #2
Published on
February 2nd 2016
by
HarperCollins
Genres:
Middle Grade
,
Fantasy
Format:
Hardcover
Source:
Author
Amazon
|
Goodreads
Also by this author:
Villain Keeper
The second book in the epic Last Dragon Charmer series is perfect for fans of Soman Chainani's School for Good and Evil series and Chris Colfer's Land of Stories series.

When mysterious magic transported Prince Caden from the Greater Realm to seemingly normal Asheville, North Carolina, he was shocked to discover it was home to the most dangerous villains ever banished from his homeland. And that a great and powerful Elderdragon rules them all.

Now Caden suspects that dark forces are conspiring on both sides of the magical divide between his world and this one. The Elderdragon gives Caden a quest: uncover the dangerous plan and protect the Greater Realm from banished villains hungry for revenge. Because if they find a way home before Caden can, everyone he loves may be in danger.

With its perfect blend of wit, action, and heart, Quest Maker will captivate readers young and old, and remind them of what it truly means to be a hero.
I received this book for free from the publisher or author in exchange for an honest review.
This does not affect my opinion of the book or the content of my review.

Quest Maker is the second book in the Last Dragon Charmer series. I read the first book – Villain Keeper – last week and I enjoyed it very much. It was a lot of fun! So I went into this book, expecting the same thing. And I'm happy to say that's what I got. Quest Maker ended up being a very solid sequel that I very much enjoyed reading.
In Quest Maker, Caden is still trapped in Asheville, home to the most dangerous villains ever banished from his home, the Greater Realms. Now, an unexpected visitor arrives and Caden suspects dark forces are conspiring on both sides of the magical divide. Asheville is in danger and so is Razzon and Caden's family. Caden is given a quest by the Elderdragon that rules the villains in Asheville. He must uncover the dangerous plan and return order to Asheville to protect the Greater Realm from banished villains hungry for revenge.
I really adore this series. It's fairly original, has interesting characters, witty humor and plenty of action. I still love all of these characters and their dynamics. I love how the plot builds in this sequel and not just kind of serves as a placeholder between the first book and the third. It's not boring at all and doesn't suffer from the Second Book Syndrome. Also, I just have to mention that I love the covers of this series and how well they fit together. Middle Grade book covers tend to be so pretty. And who doesn't love that?
If you love Middle Grade Fantasy, you should definitely check out these books. It's fun, charming, interesting and has plenty of humor. Definitely deserves more attention than it gets.
Interview
First off, why don't you tell me a bit more about yourself?
I'm from North Carolina and I grew up in the very small town of Cameron. I have a master's degree is in Biological Oceanography and I've taught math, chemistry, and biology to high school and college students. I'm very close to my family.
Actually, my sister is a writer and she is also my critique partner and plot-helper. My mom reads everything I write and gives me feedback before anyone else. My brother helps me talk out story ideas. My brother-in-law's mom and family are early readers for me, too! So I'm lucky. My family has supported me a lot with the books and with life in general, too.
Some other random things: I'm on level 1014 of CandyCrush. There are more levels, but I deemed myself victorious in that game when I passed level 1000. I don't really have a preferred way to read a book: I like paperbacks, hardcovers, ebooks, and audiobooks equally. I enjoy anime and manga, and when I want to make my blog more interesting, I search for anime gifs I can upload to it. I own about 50 books on the craft of writing and storytelling. My current favorite: "BOOK IN A MONTH" because it's orange and includes worksheets.
What got you into writing Middle Grade Fantasy?
I realized the stories that made me a life-long reader were the ones I read in middle grade. I liked middle grade books then and I like them now. Once I had that epiphany, I thought, if I like those books so much, maybe that's what I should write.
When I look at my stories, too, I see some of the influence those books have had on me. I read The Wizard of Oz and The Lion, the Witch, and the Wardrobe. I don't think it's a coincidence in those books the characters go from one world to another, and in my book my characters do the same thing.
Likewise, some of my favorite movies growing up were the Star Wars movies. If you squint, I think you can see that influence, too, especially in book two QUEST MAKER. (Slight spoiler, a character gets his hand cut off. You know, like in The Empire Strikes Back…)
Really, though, the short answer is I got into writing Middle grade fantasy because I enjoy it, and I figure if there is one person out there who has to like my book, it's me.
How did Caden's story come to life?
I like fish-out-of-water tales and I started with the idea of a straight-laced proper prince stuck in our world. I also wanted there to be a strong connection among happenings in his world, what is going on in our world, and his reason for being trapped.
So in VILLAIN KEEPER, Caden, an eighth-born prince, Brynne, a sorceress, and Sir Horace (Caden's noble Galvanian stallion) are stranded in modern day North Carolina. I'm from NC so I wanted to story to take place near my home. Asheville also has a fiery name, ancient mountains, and the cool juxtaposition of an art and foodie town and Appalachia. It seemed to be a great place for dragons and visitors from other worlds. Throughout the series, Caden, Brynne, and friends they meet along the way have to find out why they were stranded, and how the treachery in their world is connected to treachery in ours.
I was also inspired by fairy tales. Caden is loosely based on "Prince Charming". He is "gifted" with speech which means he can speak any language he hears and sometimes can 'charm' people. Brynne, the sorceress, is loosely based on the evil sorceress Prince Charming often fights only she's not evil and she's his closest ally.
Can you tell us a bit about your journey from writing the first book to getting a book deal with HarperCollins?
I've written since I was a kid. At least, I'd started a lot of stories. About six years ago, I started finishing things. At first, it was a creative outlet and an emotional distraction. (The first things I wrote and finished at that time were fanfiction.) People would leave me comments. Sometimes, they'd tell me they enjoyed my writing style, or they'd send me messages and tell me I should keep on writing. It made me feel like I could write a story people could enjoy reading and I decided I would write my own stories and characters. I wrote one book that got no interest. So, I wrote another book. That became VILLAIN KEEPER.
Once I finished it, I researched agents and sent out queries. I signed with my agent about two weeks after I queried him and he sold my book series to HarperCollins about four weeks after that. So I went from not having an agent to having a three book deal in about six weeks! It was exciting and so completely overwhelming.
What can you share about any future projects you're working on?
I'm finishing up book three, REALM BREAKER, in The Last Dragon Charmer, and I can't believe the third book is almost done! It'll be so amazing to see all three on my bookshelf.
I'm also working on a 'beachy' Southern gothic tale. I've written a few chapters and am writing an outline and synopsis soon. I don't have quite enough done to share the details yet, but I'm pretty excited about it so I hope my agent and editor will be, too.
Any tips you'd like to share for aspiring authors like myself?
One of the hardest things about writing is it is very personal and very subjective, and getting published doesn't really change that. Don't get discouraged. Use criticism to make good stories better. Once one project is finished start another. And, of course, keep writing!
Find Laurie Online:
Website / Facebook / Twitter / Instagram / Pinterest / Goodreads
Laurie is giving away 3 copies of VILLAIN KEEPER, book 1 in the Last Dragon Charmer series! You can enter y filling out the rafflecopter below.
The rules:
You must be 13 years or older to enter.
This giveaway is INTERNATIONAL!
Cheaters will be disqualified, obviously.