Hello everyone! For my second edtion of Hidden Stars, in which I spotlight books and their authors that deserve to get more attention, I invited Nicola Adams to talk about her book Out in the Dark. After the interview, there will be a giveaway, in which you can win a copy of her book! But first, more about the book itself.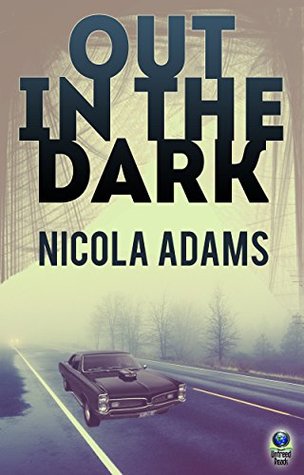 Out in the Dark
by
Nicola Adams
Published on
February 10th 2016
by
Untreed Reads
Genres:
Young Adult
,
Mystery
Amazon
|
Goodreads
Jake's father is one of a group of psychic warriors from a CIA/Stanford University project designed to train people in "remote viewing," but he's been taken by a rogue unit with more sinister plans for his skills. Now, seventeen-year-old Jake must set out on a journey to rescue his father. Jake doesn't know where his father is, and his only clues are the flashes of images he gets in his mind. Taking his father's vintage 1966 Pontiac GTO, Jake sets out across the Cascades from Washington, to Nevada. Along the way he picks up Shelley, a girl scarred by poverty and who has had to do some pretty unpleasant things to get together enough money to go to college. He was only going to give her a lift to Nevada, but soon they're both running for their lives.
Interview
Tell me about about yourself first, how did you get started with writing? Has it always been a hobby/passion?
I think I've made up stories pretty much my whole life. It was such fun to finally learn to spell and write. I still remember that pleasure as a little kid. My first story, if I can remember back that far, was a short poem about an ant I gave my mother for mother's day one year. So, yes, it's always been a passion.
How was Out in the Dark born? 
Out in the Dark, written under a pen name so as not to confuse my historical fiction audience, came out of a dark time in my life. I was, in many ways on a bit of spiritual quest and looking for answers, just like Jake in the book. In his case his search is for his father, but he learns a thing or two along the way about being able to stand on his own two feet.
What's your favorite part of this story? 
I think my favorite part is the growing trust between the two main characters. Both are so busy running away from something that it takes them a while to build trust and realize the value of the connection they have forged on this road trip while being chased by bad guys.
If you had to compare Out in the Dark to other books/movies, which ones would you choose? 
I've heard it compared a little to the TV show Supernatural. It's a thriller, a road trip – with a cool vintage car – and has some elements of supernatural in it as the main character develops his remote viewing skills to find his way.
Can you tell us anything about future projects? What are you working on at the moment? 
I'm currently working on a murder mystery a bit in the Agatha Christie style. And I'm shopping a WWII historical YA set in France and Morocco to agents.
Do you have any advise for other writers working on their own debut?
The best advice I've had is to not give up. If one book manuscript doesn't connect with an agent/publisher just yet, start work on another story. And keep at it!
Giveaway
That's it for this edition of Hidden Stars! What do you think of this book? Does it sound like something you'd like to read?