Today I welcome author Robert Eggleton to the blog! Here's a bit more about his book Rarity From The Hollow: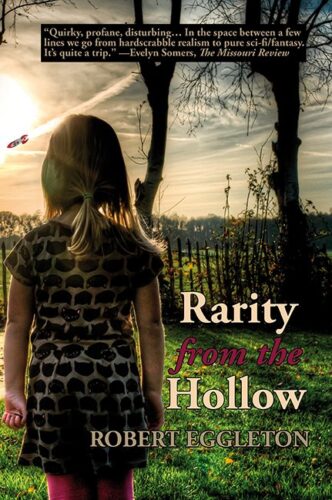 Rarity from the Hollow
by
Robert Eggleton
Published on
March 16th 2012
by
Dog Horn Publishing
Genres:
Science Fiction
Amazon
|
Goodreads
Lacy Dawn is a little girl who lives in a magical forest where all the trees love her and she has a space alien friend who adores her and wants to make her queen of the universe. What's more, all the boys admire her for her beauty and brains. Mommy is very beautiful and Daddy is very smart, and Daddy's boss loves them all.

Except.

Lacy Dawn, the eleven year old protagonist, perches precariously between the psychosis of childhood and the multiple neuroses of adolescence, buffeted by powerful gusts of budding sexuality and infused with a yearning to escape the grim and brutal life of a rural Appalachian existence. In this world, Daddy is a drunk with severe PTSD, and Mommy is an insecure wraith. The boss is a dodgy lecher, not above leering at the flat chest of an eleven-year-old girl.

Yes, all in one book.

It is a children's story for adults with a happily ever after ending.
Rarity from the Hollow is an adult literary science fiction novel that includes social commentary: poverty, domestic violence, child maltreatment, economics, mental health concerns – including PTSD experienced by Veterans and the medicinal use of marijuana for treatment of Bipolar Disorder. It has been praised by many book reviewers, including the award of two Gold Medals by prominent book review organizations, named as one of the best of five reads in 2015 by a Bulgarian book critic, an astrophysicist, but it has also been found outside of the comfort zones by a few book reviewers. This article explores the concept of comfort zones in literature and how they affect the appreciation of fiction.
Life can present situations that prompt leaving one's comfort zones in many ways. Sometimes, our departures occur totally voluntarily for an anticipated benefit – a hard and tough job interview to get higher paying job. Or, one may leave a comfort zone in pursuit of the enjoyment of experiencing something new or thrilling – a roller coaster ride that you've seen advertised all summer.
Departures from comfort zones also may be caused by some type of coercion that pushes one outside comfort. Some of these pushes may be hesitantly welcomed — your first scary airplane flight because there's not enough time to drive home for an important funeral. Other departures from comfort zones may be dreaded, such as to leave your infant at a childcare center on the first day of the end of maternity leave because you just have to return to work – you need the income.
During wars, natural disasters, emergencies…people might be directly ordered by higher authorities out of their comfort zones. In some situations, comfort zones can be very dangerous places stay — your cozy bed when the house is on fire or refusing an evacuation during a huge flood.
Literature exists in comfort zones. They could be subjected to a similar analysis as described above: voluntary, coerced, or ordered. Many factors can influence the how and why a reader got into and stays within or leaves comfort zones in literature: culture, religion, peer group or book club, community pressure….
Prospective readers may experience outside influences on whether or not to read particular books. For example, if instead of going to an uncomfortable interview, that great paying job mentioned above required mandatory training, such could be heavy reading outside of one's comfort zone (agree to study or you don't get the job). If instead of the barrage of roller coaster adverts that you saw on TV, you had instead been exposed to adverts about a highly publicized novel that everyone was talking about, your choice to read it may have been influenced by the comfort zone of fitting in with the crowd.
Did you ever feel forced to read a book in school because it was on the teacher's required list — you only complied because you wanted a good grade, but then ended up falling in love with the story, thereby broadening your reading interests and comfort zone? Or, have you ever gotten so involved with fan fiction that you felt uncomfortable reading outside of that comfort zone?
Historically, since the beginning of publishing, authorities higher than the individual have affected not only what has been made available to the public to read, but have also helped shape societies' values about comfort zones in literature. Governments and religions all over the world have banned books or certain kinds of books in the name of the public good – authority decided that it would be too risky to let people read them, sometimes resulting in public burnings of books, including The Bible.
A case could be made that major book publishing houses of today (there's only five), influence the public's taste in literature by using a formula sales model that produces books which are likely to be the most profitable based on similar books that have been sold in the past. Of course, the publishers would argue the opposite — they only try to meet public demand in tastes for books. Perhaps the truth is somewhere in the middle.
About controlling public access to and awareness of literature, I'm not talking about ancient history. According to the American Library Association, hundreds of books are still being banned each year. A list of a few banned books that shaped America can be found here. If you visit the site, you will most likely be surprised.
With respect to fiction, what types of books that one chooses to read, the genre or genres, and comfort zones with respect to controversial content, some readers stay put in their comfort zones while others explore and try to find something different. While some degree of risk-taking is likely essential to the survival of most individuals, families and communities in general, nobody has a duty to read fiction outside of one's comfort zone.
One could, however, perform a high duty to society by protecting the advancement and diversity of literature. It's easy: identify and understand the factors in one's own life which shaped your personal comfort zones, how they affect your appreciation of literature, and simply demonstrate mutual respect regardless of whether you like or approve of fiction outside of your own comfort zones.
Following are excerpts of a few reviews of Rarity from the Hollow written by book reviewers who stepped outside of their comfort zones to read it:
"…Full of cranky characters and crazy situations, Rarity From the Hollow sneaks up you and, before you know it, you are either laughing like crazy or crying in despair, but the one thing you won't be is unmoved…." ~ Reader's Favorite
"…The author has managed to do what I would have thought impossible; taken serious subjects like poverty, ignorance, abuse, and written about them with tongue-in-cheek humor without trivializing them. In fact, the rustic humor and often graphic language employed by Lacy Dawn and her compatriots only serve to highlight their desperate lives, and their essential toughness and resilience…it's a funny book that most sci-fi fans will thoroughly enjoy." ~ Awesome Indies
"…It is funny and irreverent but beneath the hallucinatory story of visits to shopping planets and interstellar shopping games, there is a profound critique of social problems, substance abuse, child sexual abuse and child murder that is quite eye opening… Rarity from the Hollow is very, very good…I'd recommend Rarity From the Hollow to anybody who likes a side helping of the lunatic with their science fiction and fantasy." ~ Addicted to Media
"…soon I found myself immersed in the bizarre world… weeping for the victim and standing up to the oppressor…solace and healing in the power of love, laughing at the often comical thoughts… marveling at ancient alien encounters… As a rape survivor… found myself relating easily to Lacy Dawn… style of writing which I would describe as beautifully honest. Rarity from the Hollow is different from anything I have ever read, and in today's world of cookie-cutter cloned books, that's pretty refreshing… whimsical and endearing world of Appalachian Science Fiction, taking you on a wild ride you won't soon forget…." ~ Kylie Jude
"…When Eggleton requested a review of Rarity from the Hollow, I was hesitant to accept. I usually do not read or review books that discuss child abuse or domestic violence; however, I was intrigued by the excerpt and decided to give it a shot. I am glad that I took a risk; otherwise, I would have missed out on a fantastic story with a bright, resourceful, and strong protagonist that grabbed my heart and did not let go…. Rarity from the Hollow brilliantly combines social commentary in a fantastical and intricate science fiction setting that readers can understand and relate to. It is one of those books that if it does not make you think, you are not really reading it." ~ On My Kindle