Hey guys!
Today I am very happy because I partnered with Litte, Brown again to share this awesome giveaway for a book you MIGHT have heard of. It's Laini Taylor's newest book, Strange The Dreamer, which is magical and beautiful and if you haven't read it yet, you definitely should. Have you been living under a rock and don't know about this book? Here's what it's about.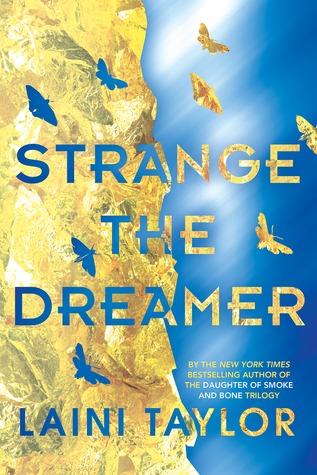 Strange the Dreamer
by Laini Taylor
Series: Strange The Dreamer #1
Published on March 28th 2017
by Little Brown & Co
Genres: Young Adult, Fantasy
Format: Hardcover
Amazon | Goodreads

Also by this author:
Daughter of Smoke & Bone
,
Dreams of Gods & Monsters
,
Daughter of Smoke & Bone
,
Days of Blood & Starlight
,
Dreams of Gods & Monsters
A new epic fantasy by National Book Award finalist and New York Times bestselling author Laini Taylor of the Daughter of Smoke & Bone trilogy.

The dream chooses the dreamer, not the other way around--and Lazlo Strange, war orphan and junior librarian, has always feared that his dream chose poorly. Since he was five years old he's been obsessed with the mythic lost city of Weep, but it would take someone bolder than he to cross half the world in search of it. Then a stunning opportunity presents itself, in the person of a hero called the Godslayer and a band of legendary warriors, and he has to seize his chance to lose his dream forever.

What happened in Weep two hundred years ago to cut it off from the rest of the world? What exactly did the Godslayer slay that went by the name of god? And what is the mysterious problem he now seeks help in solving?

The answers await in Weep, but so do more mysteries--including the blue-skinned goddess who appears in Lazlo's dreams. How did he dream her before he knew she existed? and if all the gods are dead, why does she seem so real?

In this sweeping and breathtaking new novel by National Book Award finalist Laini Taylor, author of the New York Times bestselling Daughter of Smoke & Bone trilogy, the shadow of the past is as real as the ghosts who haunt the citadel of murdered gods. Fall into a mythical world of dread and wonder, moths and nightmares, love and carnage.

Welcome to Weep.
Need more convincing? You can read the prologue here, the first chapter here and another excerpt here. OR you can take this fun quiz and find out which Godspawn you are! You can also watch Laini Taylor introduce the novel over here. Or watch the animated shorts The Unseen City and Meet Sarai. Before you go on, please watch the animated short Meet Lazlo:
And now for the giveaway! First some rules:
♦ US only. (Sorry international friends!)
♦ Must be at least 13 years old to enter this giveaway.
♦ Cheaters don't prosper my friends.
♦ All prizes and samples are provided by Little, Brown & Co.
What can you win?
♦ A copy of Strange the Dreamer
♦ Sleep-mask and aromatherapy pillow sleep mist
♦ and a luna moth enamel pin to watch over your dreams!
Go forth and enter! And tell me all about your love for Laini's books and your excitement for this one in particular.
Save
Bee (born as Bieke) is 27 years old and from Belgium. (No she won't send waffles.) She's a strange, nerdy and anxious creature floating around somewhere on the ace spectrum. Oh, and she also writes books as Nelly B. Jones. Or tries to anyway. You can also find her on Novel Ink.