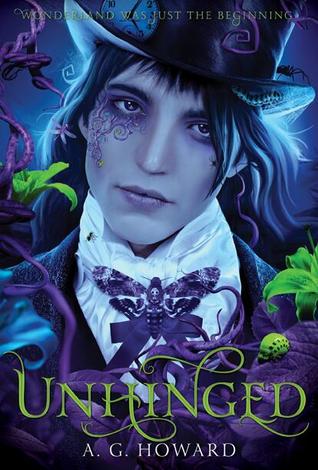 Unhinged
by
A.G. Howard
Series:
Splintered #2
Published on
January 7th, 2014
by
Amulet Books
Genres:
Young Adult
,
Paranormal
,
Romance
,
Retelling
Format:
Paperback
Source:
Purchased
Amazon
|
B&N
|
BookDepository
|
Goodreads
Also by this author:
Splintered
,
Splintered
,
Ensnared
,
The Architect of Song
Alyssa Gardner has been down the rabbit hole and faced the bandersnatch. She saved the life of Jeb, the guy she loves, and escaped the machinations of the disturbingly seductive Morpheus and the vindictive Queen Red. Now all she has to do is graduate high school and make it through prom so she can attend the prestigious art school in London she's always dreamed of.

That would be easier without her mother, freshly released from an asylum, acting overly protective and suspicious. And it would be much simpler if the mysterious Morpheus didn't show up for school one day to tempt her with another dangerous quest in the dark, challenging Wonderland—where she (partly) belongs.

As prom and graduation creep closer, Alyssa juggles Morpheus's unsettling presence in her real world with trying to tell Jeb the truth about a past he's forgotten. Glimpses of Wonderland start to bleed through her art and into her world in very disturbing ways, and Morpheus warns that Queen Red won't be far behind.

If Alyssa stays in the human realm, she could endanger Jeb, her parents, and everyone she loves. But if she steps through the rabbit hole again, she'll face a deadly battle that could cost more than just her head.

NNNNNNNNNNNNNNNNNOOOOOOOOOOOOOOOOOOOOOOOOOOOOOOOOOOOOO!!!!!!! Where's Ensnared when you need it??!!!! I just can't believe it ended like that!!! It's just not FAIR!!!! I want Ensnared, NOW!!!!
I cannot begin to tell you how much this book blew my mind. I just could not put it down once I started it and the story, oh my god the story … it moved me, shocked me, amused me, maddened me, frustrated me, angered me, lured me, captivated me and at the very end it left me completely and utterly unhinged.
It was just soooooooo amazing. I'm still having trouble stepping out of the story because it was just that incredible and I never wanted to leave the world A.G. Howard created. I can't even begin to describe just how deeply immersed I was in the character of Alyssa and how she perceived the world around her, along with all the things she did and thought. And for the sake of not spoiling anyything, that's all I'm willing to say about the story itself. Because everyone should definitely read this book when they have the chance, it will rock your world!
Characters, well here's my thoughts on that for this book
Ooooooooooohhhhh MORPHEUS!!!!!!! How I love thee, how I worship the ground you walk on. How your Wonderland madness captivates me.
I just can't help myself. I'm completely and irrevocably in love with Morpheus because of his wondrous Wonderland nature and disturbinlgy sedective way he pulls Alyssa along with his eerie manipulations and dangerous plans. He's like no other character I've met so far, he's just so unique. I just keep wanting to read more of him, because he's just so intriguing and so different. And gah, he makes me insanely frustrated in the book too sometimes.
As for Alyssa and Jeb. I still love both of them. Alyssa has grown so much and the way she "evolved" let us say at the very end, made me bulge my eyes out and I went like "Seriously WTH?!", she's becomes so strong and even a little madder then in Splintered, which I love. And Jeb, oh my gosh, Jeb the things that boy has to go through in the book, I did feel sorry for him at some point, but while I love him, I still prefer Morpheus.
As for Alyssa's mom and dad. They played quite a larger part in Unhinged, then they did in Splintered, especially Alison, Alyssa's mom who has quite a few secrets that shocked the hell out of me. I just could not believe she would lie like that and then that twist with Alyssa's dad … OMG will the twists just never end? Either way, I loved both of them, because we get to see Alison being a kickass mom and woman and Alyssa's dad is just lovable.
Now without further ado, my verdict for this gorgeous little gem? 5 STARS!!