This book may be unsuitable for people under 17 years of age due to its use of sexual content, language, and/or violence.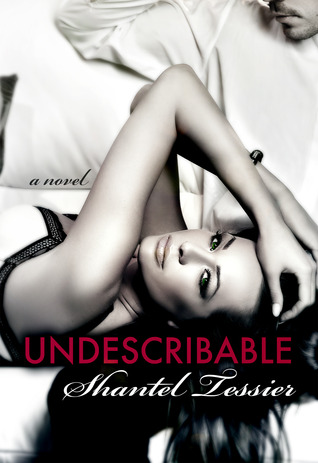 Undescribable
by
Shantel Tessier
Series:
Undescribable #1
Published on
July 21st, 2013
by
Amazon KDP
Genres:
Adult
,
Contemporary
,
Romance
Format:
eBook
Source:
Author
Amazon
|
B&N
|
BookDepository
|
Goodreads
Samantha Hall needs a fresh start

Broken hearted and alone in a new city, Samantha begins to build a new life for herself while working as a bartender. Focusing on her new friends and rebuilding her broken life, Samantha is content.

Until she meets him – attorney by day and a cocky, foul mouth playboy by night. All girls want Slade Long, but not one has ever been able to keep his attention for long. Having a different woman in his bed every night is how he prefers it-no emotion, no connection.

Until he meets her - an angel with the sweetest voice he has ever heard and the most enticing green eyes. Samantha makes him second guess his actions and has him wanting something he didn't know existed. How can a man who has never been in love, be so sure? Can real love happen this fast?

Burned by her past, Samantha struggles to keep up with the overwhelming passion she feels for Slade. She knows that he will be nothing but trouble to her already fragile heart, but how long can she continue to deny the love that she feels for him?
Will Samantha let Slade prove his love is real, or will she push him away?

She thought she knew love…… He thought he never wanted love….. Together they will show each other what they can't live without.
I received this book for free from the publisher or author in exchange for an honest review.
This does not affect my opinion of the book or the content of my review.

Wow.
Just … wow.
Sorry people but I'm pretty speechless at the moment. I can't help it. This book was just … awesome!
I usually only read these kind of books when the mood for them hits me and most of the time I'm disappointed after reading them. But that was NOT the case with Undescribable, it completely blew me away!
So let me first start with Samantha. I love her because she's strong, independent, kind but she also knows when to use that sharp tongue of hers. Especially when she first meets Slade (loooooooooved that part). She also has a very interesting past and her relationship with her mom was kind of sad, more so when we find out why at the end of the story, but I'm not going to ruin to that for anyone, so you'll just have to read the book!
Of course what's this romance novel withour a hunky piece of man-meat? Introducing to the ladies: Slade Long, resident bad boy and playboy who screws more then your average bunny. And have I told you he's HOT yet? Well, he is! He is totally yummy. Yeah, you read right … YUMMY. The way I imagine him to be, I wouldn't mind him jumping my bones, like he does Sam.
Then you have Micah and Holly and oooooh I just want to hug and squeeze them because they're just so cuuuuuuuuuuute together! We also have Courtney and Josh, who – I hope – will get it on in the sequel, because I really, really think they should be together. They would be good for each other!
The story was really swoon-worthy and soft and squishy and … totally dripping with HOTNESS. During some scenes in the book, I actually had to get out my fan to cool down (no joke, I really did!).
So all in all, it definitely deserves 5 stars! I loved it and I can't wait to read more of Samantha and Slade's story!