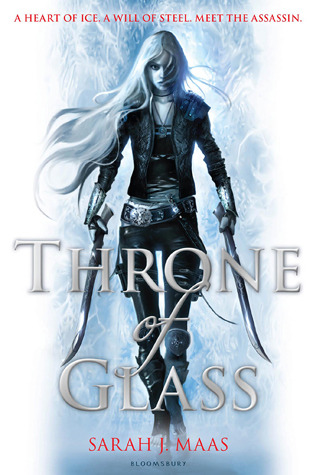 Throne of Glass
by
Sarah J. Maas
Series:
Throne of Glass #1
Published on
August 2nd, 2012
by
Bloomsbury Publishing
Genres:
Young Adult
,
Fantasy
Format:
Paperback
Source:
Purchased
Amazon
|
B&N
|
BookDepository
|
Goodreads
Also by this author:
Throne of Glass
,
Crown of Midnight
,
Crown of Midnight
,
Heir of Fire
,
A Court of Thorns & Roses
Meet Celaena Sardothien.
Beautiful. Deadly.
Destined for greatness.

In the dark, filthy salt mines of Endovier, an eighteen-year-old girl is serving a life sentence. She is a trained assassin, the best of her kind, but she made a fatal mistake. She got caught.

Young Captain Westfall offers her a deal: her freedom in return for one huge sacrifice. Celaena must represent the prince in a to-the-death tournament—fighting the most gifted thieves and assassins in the land. Live or die, Celaena will be free. Win or lose, she is about to discover her true destiny. But will her assassin's heart be melted?

This was such an unexpected, awesome read and I seriously regret not starting this series sooner!! The writing, the characters, just everything about is was so cool and incredible and I couldn't stop reading once I really got into the book.
So the story goes that we meet Celaena Sardothien, otherwise known as Adarlan's Assassin, who had been sent to the salt mines of Endovier after being captured. One day the Prince of Adarlan comes to the salt mines with his entourage, which includes the Captain of the Guard, Chaol, who also happens to be the Prince's friend. So Dorian, the Prince, offers Celaena a deal; become his Champion or die in the salt mines. Celaena chooses to become his Champion and if she wins the competition and becomes the King's Assassin, she'll have to serve him for four years and then she'll earn her freedom and be able to track down the one who betrayed her and got her thrown in the salt mines.
The story really, completely blew my mind, Sarah J. Maas is a fantasy genius, seriously. I will now and forever more worship the ground that woman walks on. She's my second Tolkien and I don't care how that sounds to anyone else, she's just an amazing writer and Throne of Glass is a master piece, one you don't find very often these days. I'm so grateful to my best friend for recommending this series to me.
Let's move on to the characters, shall we?
Okay so I'll be honest and say that for the first 50% of Throne of Glass, I didn't feel much for Celaena. She just seemed so "blah" after all the hype about her, but then after the 50% mark, I LOVED her!! She's a bad ass assassin and at the same time I loved the softer side of her. And than there's Dorian and Chaol. God where do I even begin? Dorian is not what I expected him to be, I first thought him to be a [bleep] but then he turned out to be both sweet and kind-hearted at the same time, so unlike his father and also there's something off about him, I don't know what it is, but I'm curious to find out. And then there is Chaol, who's torn between loyalty to King and Country and his growing trust in Celaena, who he feels he shouldn't trust given her profession and the fact that she doesn't feel an ounce of loyalty to the King or Prince or anyone else in Adarlan. And then there's princess Nehemia, who just cool, hands down.
I know there's a bunch of other characters too, but the one that I hated the most was Cain, Perrington and the King in Throne of Glass, I swear they're ingenious villains, but I hate them so much and at least one of them isn't alive at the end of the book, so that made me happy.
I can't say anymore except that I am gonna finish reading Crown of Midnight, so I know what happens next!