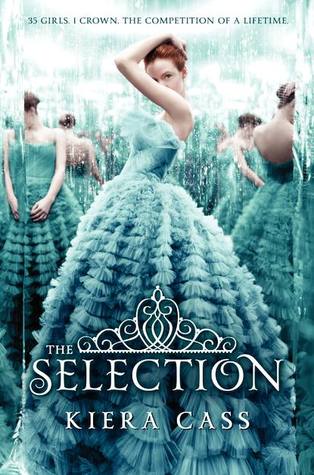 The Selection
by
Kiera Cass
Series:
The Selection #1
Published on
April 24th, 2012
by
HarperTeen
Genres:
Young Adult
,
Dystopian
,
Romance
Format:
Paperback
Source:
Purchased
Amazon
|
B&N
|
BookDepository
|
Goodreads
Also by this author:
The Elite
,
The Selection
,
The Elite
,
The One
,
The One
For thirty-five girls, the Selection is the chance of a lifetime. The opportunity to escape the life laid out for them since birth. To be swept up in a world of glittering gowns and priceless jewels. To live in a palace and compete for the heart of gorgeous Prince Maxon.

But for America Singer, being Selected is a nightmare. It means turning her back on her secret love with Aspen, who is a caste below her. Leaving her home to enter a fierce competition for a crown she doesn't want. Living in a palace that is constantly threatened by violent rebel attacks.

Then America meets Prince Maxon. Gradually, she starts to question all the plans she's made for herself—and realizes that the life she's always dreamed of may not compare to a future she never imagined.

OMG I LOVED IT!!!!!!!!!!!!!!!! I can't believe how utterly amazing this book was. I could read it over and over and over and over and over … and never get tired of it! I mean God, this book was everything I hoped it would be. And I'm so glad I listened to my friend when she told me to read this book, saying it would rock my world.
The story is just incredible! It just blew my mind. The idea to have a competition for a man's heart might not all that original (I think everyone's seen The Bachelor on TV), but the world Cass created, the castes, the way of life and political intrigue of her world is just amazing.
And then we have America (can I just say that I love her?), she's amazing. Her caste is Five which is about three steps from being considered nothing in her world. She's a hard working, honest, stubborn, feisty, doesn't change for anyone and is an honest to God normal girl. And I aboslutely adore the fact that she doesn't want to be a princess at all, it's nice to see how different she is from all the Selected girls. And I love her interaction with her sister May and also with another Selected girl, named Marlee (she's funny!). And then we have the man it's all about, Maxon *swoons like a love sick girl* Ahem … yeah … that's pretty much how I feel about him. I mean he soooooooo nice, and gentlemanly (and yes that's a word!) and I can't help with fall in love with him. He's just so … *sighs dreamily* … so perfect! Of course we have the other side of the coin, Aspen. Now I know there are a lot of people out there who like him, but I just didn't feel anything for him. He just so … so … blah… I know he and America dated for like two years and they – obviously- loved each other, but from the very first page he just didn't seem right for her and it had nothing to do with his caste being a Six, but just his attitude and the way he treated America just rubbed me the wrong way. So you can say I'm definitely a Team Maxon girl, America should just forget about Aspen and just go with Maxon, because he's the One for her, in my eyes. Also can I say that I hate Celeste, that no good for nothing [bleep], just makes me wanna wring her neck every time I read about her. And I can't believe she made it to the Elite! I hope Maxon kicks her ass out in the next book, but he probably won't. I wouldn't even be surprised if Celeste ends up against America in The One. I hope she doesn't, because I hate her, but yeah that's how these things usually go anyway, so I wouldn't be surprised at all.
So yeah after reading it (and loving it), it more then deserves the perfect 5 stars! Now I'm off to read The Elite, of which I now own a paperback copy that's sitting oh so tempting, right next to me. So I'm gonna go and read it, because I just … NEED TO KNOW WHAT HAPPENS NEXT! *grabs The Elite* now shoo, I'm reading again!