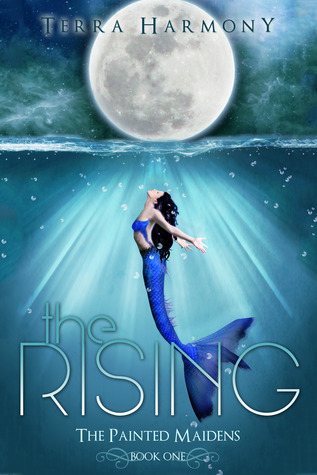 The Rising
by
Terra Harmony
Series:
The Painted Maidens #1
Published on
November 7th, 2013
by
Patchwork Press
Genres:
Young Adult
,
Paranormal
,
Fantasy
,
Mermaids
Format:
eBook
Source:
Netgalley
Amazon
|
B&N
|
Goodreads
Seventeen-year-old Serena is the youngest member of a dying race. The increasing acidity of the ocean is destroying her home, slowly eating away at the once thriving underwater landscape. But since the night of Serena's birth, it is an outside force that most threatens their dwindling population. Werewolves, who once served as protectors for mermaids in the Kingdom of the Undine, now seek to eliminate all who dwell in the ocean — and Serena is about to find herself right in the middle of the deadly conflict.

Given the title of Werewolf Liaison, Serena is determined to make things right for her people. When she ventures to The Dry, she meets Liam, the werewolf with hazel eyes, and her whole world gets turned upside down. As Serena discovers the real history between werewolves and mermaids, she is left wondering who her true enemies are.
I received this book for free from the publisher or author in exchange for an honest review.
This does not affect my opinion of the book or the content of my review.

I must say I didn't expect much when I first requested this book on NetGalley, because well … to be honest I haven't read many great mermaid stories in the last few years, but The Rising certainly surprised me.
So let me start at the beginning. This book is about mermaids and werewolves, an odd combinations I know but in this case it really works. We met Serena who's a misschievous, very curious and rule breaking fifteen-year-old mermaid. Serena doesn't feel like she belongs with Society and often goes on the Dry, knowing she isn't allowed without expressed permission. After being accused by her Caste Master Zayla of Meddling, Serena is put through a whirlwind of drama and dangers as well, when at her Choosing the King proclaims her Werewolf Liason, when there hasn't been one since the Maiden Massacre sixteen years prior, and what had started the war between the mermaids and the werewolves. And leads Serena to discover many things that she never knew about her kind, as well as buried secrets that come to light that leave her wondering about who her true enemies are.
Unto to other things now,I loved the way the author created the mermaid or rather the Undine species. They're not your normal mermaid and I like that about this. I also love the way their Society and hierarchy is put together. It really is so different from all the other mermaid stories I've read in my life and it really is immensly interesting.
Then the characters, I love Serena. She's a bit of a misfit really, but she's also curious, nice, smart and just overal a really interesting character. Then we also have Kai, who's part of King's Guard, I find him funny and easy to like as well. Then we also have Liam, who's a werewolf and the first one Serena meets after she's appointed Werewolf Liason. He interesting to say the least, but I can't quite get a read on him right now, I think I'm going to wait and see until the second book comes out until I form my opinion of that particular character. Besides those three, there are a bunch of characters we meet throughout the story, like the King, Zayla, Rayna, Nerin, Ervin, Cordelia and many many more.
Overal this was a very, very interesting book and I loved it, there was only one minor thing that bothered me, but besides that it was perfect. One of the best mermaid stories I've read in years and I recommend it to everyone who loves mermaids and werewolves to read this book because it's definitely worth it.